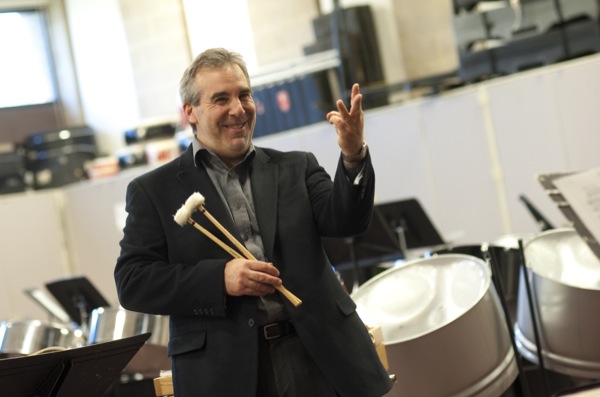 May 5: Peace Drums
UD professor part of international music project to promote peace
2:19 p.m., May 1, 2013--As part of an innovative music project to create harmony and promote peace among Jewish and Arab youth, Harvey Price, assistant professor of music at the University of Delaware, will travel to the Galilee region in Israel to form a steel drum band of 10 Jewish students and 10 Arab students.
The project, titled Peace Drums: A Galilean Steel Band, will formally launch at a fundraising event on Sunday, May 5, from 6-8 p.m., at the Delaware Art Museum in Wilmington.
Fulbright awards
Three University of Delaware students and an alumna have received word this spring that they will travel abroad as part of the newest class of Fulbright Student Program award winners.
Peace Corps plans
Two University of Delaware students, John McCarron and Bridgette Spritz, have been selected as Peace Corps volunteers and will serve in Ghana and Rwanda.
The event will feature a Caribbean theme, refreshments, information about the program and a drum performance by Price.
The Peace Drums project began after Delaware religious leaders met to brainstorm ways to promote peace in the Middle East. Upon learning that Price, who had already formed three successful youth steel bands in Israel, wished to form a Jewish and Arab steel band made of up middle school-aged children, they embraced the idea. 
The project is co-sponsored by Delaware Churches for Middle East Peace, the Jewish Federation of Delaware's Community Relations Committee and Pacem in Terris. 
Provided enough funds are raised, Price will soon return to Israel to begin teaching the interfaith youth band and train an instructor to oversee the band. The Peace Drums band will then perform throughout Israel and the region to promote partnership and reconciliation in an area riddled with tension. 
For more information on the project see the website. 
To see a PDF brochure for the launch event, click here.
Photo by Kathy F. Atkinson