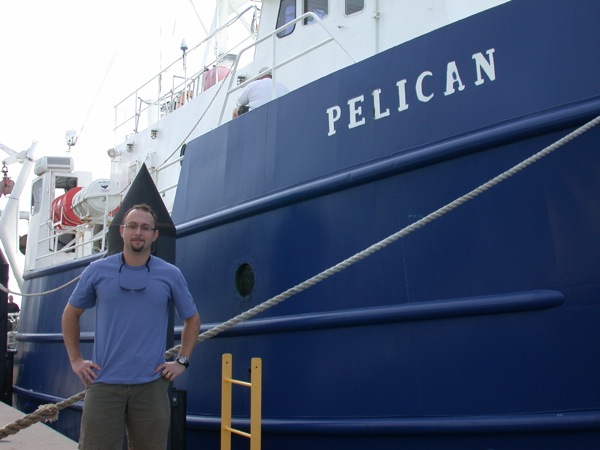 May 23: Ocean Currents Lecture
Lewes lecture series returns with marine science talks open to the public
8:29 a.m., May 14, 2013--The popular Ocean Currents Lecture Series returns to the University of Delaware's Hugh R. Sharp Campus in Lewes, Del., for a 16th summer of engaging topics on marine science. 
The series kicks off with UD's Mark Warner, associate professor of marine biosciences in the College of Earth, Ocean, and Environment, discussing coral reefs on Thursday, May 23, at 7 p.m. in Room 104 in the Cannon Laboratory.
June 5: Blue Hen 5K
University of Delaware graduates planning to attend Alumni Weekend are encouraged to register for the annual Blue Hen 5K walk and run, which will be held Sunday morning, June 5.
June 6-9: Food and culture series
The 20th annual June Lecture Series at the Osher Lifelong Learning Institute at UD in Wilmington will be held June 6-9. Titled 'June a la Carte,' this year's program focuses on great political documents, feminism, world politics and a Newark cuisine sampler.
Warner's presentation — titled "Our Changing Climate and the Future of Coral Reefs: How Can We Predict the Winners and Losers?" — explores how pollution and rising temperatures are impacting the health of coral reefs. 
"A lot of people in this area of research wonder in next 100 to 200 years, what will reefs look like?" Warner said.
Warner studies the algae that live inside coral in a symbiotic, or mutually beneficial, relationship: the algae produce food for the coral and the coral makes nutrients and other substances that the algae need. When water temperatures increase because of global warming, the algae are expelled in a process known as "coral bleaching" and the coral can die off. 
Excess carbon dioxide in the ocean from pollution also affects this relationship. While the extra carbon dioxide may benefit the algae, it can be harmful to the coral. 
Warner and other researchers hope to gain a better understanding of these interconnections to predict the impact on reefs in coming decades. For example, large, slow-growing corals seem to be resistant to bleaching in the Pacific Ocean but not in the Caribbean — and scientists want to know why. 
Warner also studies sea anemones, which have symbiotic relationships with algae too. He is beginning an experiment with sea anemones and different algal symbionts, raising the carbon dioxide levels in water to simulate conditions predicted 100 years from now. Some algae may benefit from more carbon dioxide and grow faster, or they could transfer more carbon to the anemone. 
Warner earned a bachelor's degree in zoology and a doctoral degree in ecology from the University of Georgia and joined UD in 2001. He is conducting field research in Curaçao off north of Venezuela, the Yucatán Peninsula in Mexico and the island of Palau, east of the Philippines. 
During his presentation, Warner will show photos and specimens from his research, including live animals and the white skeletons of previously living coral. 
"A lot of people don't even realize that these are skeletons of living animals," Warner said. 
The lecture is free and open to the public, but reservations are required due to limited seating by contacting Marcia Pettay at mpettay@udel.edu or 302-645-4346. Light refreshments will be served. The Hugh R. Sharp Campus is located at 700 Pilottown Road in Lewes, Del.
Additional Ocean Currents lectures scheduled for this summer are: 
Thursday, June 20 – Jack Gallagher, "Living in the Coastal Ecotone: Lessons Learned from the Plants the Evolved Here;"
Thursday, July 18 – Charles Epifanio, "History of Marine Science at UD: A Wild, Wet and Windy Journey;" and
Thursday, Aug. 15 – Wei Jun Cai, "The Global Carbon Cycle in a Changing Climate."
Article by Teresa Messmore
Photo courtesy of Mark Warner