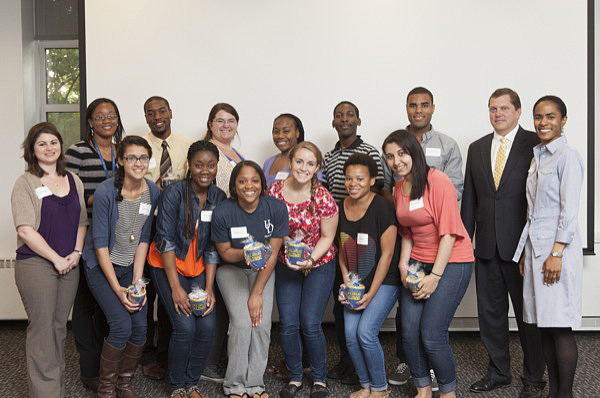 Senior recognition
Graduating seniors in NUCLEUS program honored during recognition event
9:10 a.m., May 16, 2013--The NUCLEUS Program was established as an undergraduate academic service support program that helps the University of Delaware recruit and graduate academically talented students.
For 56 members of the Class of 2013, their experience in UD's NUCLEUS Program can be deemed a success as they prepare to collect their undergraduate degrees. 
National Medal of Science
President Barack Obama recently presented the National Medal of Science to University of Delaware alumnus Rakesh Jain.
Warren Award
Rosalind Johnson, assistant dean for student success in the NUCLEUS Program in UD's College of Arts and Sciences, was presented the John Warren Excellence in Leadership and Service Award during a May 26 ceremony.
Graduating seniors in the program were honored during the College of Arts and Sciences NUCLEUS Senior Recognition Event held May 8 in the Perkins Student Center. 
Due to the expansion of the NUCLEUS Program in 2011, seniors from a variety of disciplines were honored at the event. 
Initially created to provide support for historically underrepresented students majoring in science, technology, engineering and math related fields, the NUCLEUS Program is now open to students in any College of Arts and Sciences major as well as select majors in other colleges.
Attendees received words of wisdom from George Watson, dean of the College of Arts and Sciences, and invited speaker David Wilson, associate professor of political science and international relations. 
Wilson emphasized the importance of seeking out a support network both in college and in the professional world. 
A few seniors also offered reflections on their experiences at UD as part of the NUCLEUS Program and gave advice to their younger peers. 
Jessica Dougherty, an English major with a minor in theatre, discussed how she graduated from the Associate in Arts Program in Dover and her post-graduation employment as audience service assistant with UD's Resident Ensemble Players. 
The second student speaker, Remi Poindexter, plans to intern at the Philadelphia Museum of Art and pursue the study of art history in graduate school. Poindexter, a triple major in art history, Spanish and Latin American and Iberian studies, discussed how he was able to stay in the NUCLEUS Program — after switching out of the biology major — due to the program's expansion and acceptance of more majors. 
The final student speaker, Keywan Johnson, reflected on his participation in the program as a chemistry major. Johnson will pursue his Ph.D. in chemistry at the University of Rochester this fall. 
"The NUCLEUS Program is very excited to have so many seniors graduating this year and the College of Arts and Sciences is committed to continuing to support student success," said Tara Falcone, graduate assistant for the NUCLEUS Program. 
Falcone emphasized the senior class' success across a wide range of majors and their diverse graduation plans. 
Several NUCLEUS seniors will pursue further education in areas such as athletic training, nursing, law, speech language pathology and biomedical sciences at institutions including the University of Buffalo, University of Maryland and Wake Forest University. Others will enter medical programs at institutions across the country, including Jefferson Medical College, New York Medical College and the University of Texas Medical Branch in Galveston. 
Class of 2013 NUCLEUS Seniors
Andrew Agostini, Sarah-Joy Akhimien, Samantha Albanese, Alyssa Atanacio, Esther Ayettey, Valentine Bagirimvano, Shoaib Baqi, Lauren Berry, Hamza Bhatti, Emily Biser, Clyde Broderick, Erica Chandler, Chelsea Cimino, Amani Clotter, Maria Cobanera, Ellenie Cruz, Deangie Davis, Jessica Dougherty, Lourdes Duluc, Jordann Duncan, Chika Egbe, Shirleeah Fayson, Michelle Francis, Natasha Gaston, Alejandra Gonzalez, Jekira Grady, Case Gregory, Amanda Grigoli, Deana Hamilton, Alexia Hay, Michele Hudgins, Rachel Jamison, Ashlee Johnson, Keywan Johnson, Yasir Khan, Danielle Lopez, Michelle Ma, Tara Mitchell, Angelica Montes, Ugochi Okwu-Lawrence, Ife Ologbauma, Amira Parker, Remi Poindexter, Kendall Poole, Sheilah Power, Dustin Robles, Christine Rostom, Angela Sansone, Glenn Schiotis, Ilana Schlesinger, Iman Shamloul, Sharon Song, Jessica Stanley, Olivia Welna, Alexandra West and Camille White. 
Recent appointments
Recently, permanent staffing has been established for the NUCLEUS Program as part of the College of Arts and Sciences Undergraduate Academic Services division. On May 1, Rosalind Johnson was appointed as assistant dean for student success. Tara Falcone will serve as academic program coordinator responsible for NUCLEUS, beginning June 1. 
Article by Kelley Bregenzer
Photo by Ambre Alexander