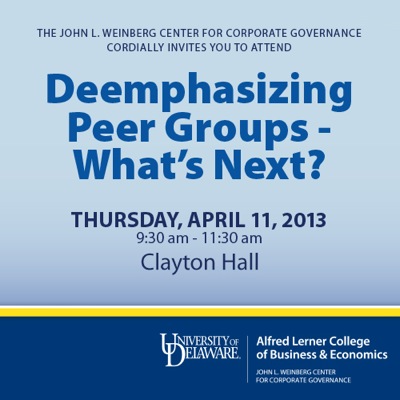 April 11: Weinberg Center panel
Weinberg Center to host corporate governance panel
11:45 a.m., March 22, 2013--The John L. Weinberg Center for Corporate Governance at the University of Delaware will host a panel titled "Deemphasizing Peer Groups: What's Next?" from 9:30 a.m.-11:30 a.m., Thursday, April 11, in Clayton Hall on UD's Laird Campus.
The program will review the utility of using peer group benchmarking in setting executive compensation with a specific focus on what other factors should be considered by a compensation committee if peer group benchmarking is deemphasized.
June 5: Blue Hen 5K
University of Delaware graduates planning to attend Alumni Weekend are encouraged to register for the annual Blue Hen 5K walk and run, which will be held Sunday morning, June 5.
June 6-9: Food and culture series
The 20th annual June Lecture Series at the Osher Lifelong Learning Institute at UD in Wilmington will be held June 6-9. Titled 'June a la Carte,' this year's program focuses on great political documents, feminism, world politics and a Newark cuisine sampler.
To engage a lively debate around these governance issues, panelists include:
Vineeta Anand, chief research analyst, Office of Investment, AFL-CIO;
James D. C. Barrall, partner, Latham and Watkins; 
J. Roderick Clark, director, Ensco plc;
Frederic W. Cook, chairman, Frederic W. Cook and Company;
Michelle Edkins, global head of corporate governance, BlackRock;
Craig K. Ferrere, Edgar S. Woolard Jr. Fellow in Corporate Governance, John L. Weinberg Center for Corporate Governance, UD; 
Randy J. Holland, justice, Delaware Supreme Court;
Blair Jones, managing principal, Semler Brossy Consulting Group LLC; 
James A. Lawrence, chairman, Rothchild North America;
Brady K. Long, vice president and general counsel, Ensco plc; and
Paul E. Rowsey III, director, Ensco plc.
Charles M. Elson, Edgar S. Woolard Jr. Chair in Corporate Governance and director of the Weinberg Center, will moderate the panel.
A complementary buffet lunch will follow the program.
There is no charge for the program but as space is limited, anyone who plans to attend should RSVP to Louisa Cresson at lcresson@udel.edu no later than Wednesday, April 3. 
Materials and additional information will be forwarded in advance of the panel. Where applicable, DE CLE credits will be provided.