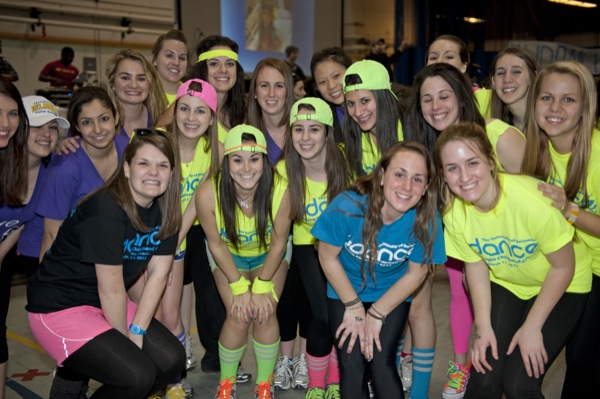 March 10: UDance marathon
Campus community to unite for annual UDance marathon
3:15 p.m., March 1, 2013--UDance, a 12-hour philanthropic dance marathon that unifies the University of Delaware campus community and raises awareness of pediatric cancer, will be held from 11 a.m. to 11 p.m., Sunday, March 10, at the Delaware Field House on South College Avenue.
UDance is the University's largest student-run philanthropy and has donated more than $900,000 in six years of existence. This past year alone, the organization doubled five years of effort by raising over $450,000, a representative said.
The 2013 goal is $600,000, and it is expected that more than 5,000 people will participate.
June 5: Blue Hen 5K
University of Delaware graduates planning to attend Alumni Weekend are encouraged to register for the annual Blue Hen 5K walk and run, which will be held Sunday morning, June 5.
June 6-9: Food and culture series
The 20th annual June Lecture Series at the Osher Lifelong Learning Institute at UD in Wilmington will be held June 6-9. Titled 'June a la Carte,' this year's program focuses on great political documents, feminism, world politics and a Newark cuisine sampler.
The donations have benefited the Andrew McDonough B+ (Be Positive) Foundation, which funds childhood cancer research and provides assistance to families of children with cancer across the country. 
The B+ Foundation is one of the largest grantors of financial assistance to families of children with cancer in the U.S.
The foundation honors the memory of 14-year-old Andrew McDonough, who just 48 hours after leading his soccer team to victory, was diagnosed with leukemia and was not expected to live through the night.
He fought for 167 days before dying on July 14, 2007.
Throughout McDonough's illness, he was an inspiration and that, coupled with his B+ blood type, became the watchword – "be positive."
The UDance marathon will feature food, games, contests, raffles, music and prizes throughout the event.
At 5 p.m., UDance will honor the B+ Heroes, children who are battling cancer. 
There will be numerous guests, including members of the UD football and women's basketball teams and mascots including YoUDee and the Philadelphia Eagles' Swoop.
The family of one of the B+ Heroes, Drew Koenig, says, "B+ is an amazing support system through their genuine love, constant understanding and their drive to make it a better day for you and your struggling family. When the mat is yanked out from under you and the world is crashing before your child's eyes B+ is there to cushion the fall. UDance help -- helping to fund the hospitals that we need to make better medicines, less invasive therapies, finding answers and more cures. UDance is proof that you should never ever give up."
Photo by Lane McLaughlin