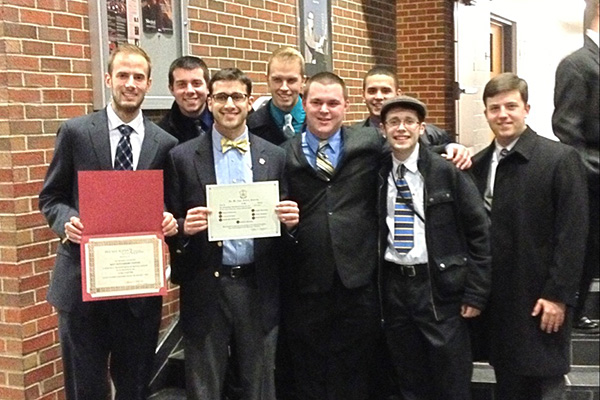 Outstanding chapter
UD music fraternity receives regional and national awards
9:10 a.m., March 19, 2013--The Xi Mu Chapter of Phi Mu Alpha Sinfonia, a music fraternity at the University of Delaware, received the most outstanding chapter award at the annual Province Workshop in February.
The chapter also received the Charles E. Lutton Province Merit Award at the 2012 Phi Mu Alpha Sinfonia National Convention in Orlando, Fla., last year.
National Medal of Science
President Barack Obama recently presented the National Medal of Science to University of Delaware alumnus Rakesh Jain.
Warren Award
Rosalind Johnson, assistant dean for student success in the NUCLEUS Program in UD's College of Arts and Sciences, was presented the John Warren Excellence in Leadership and Service Award during a May 26 ceremony.
The Xi Mu Chapter is part of Province 27, which includes chapters of Phi Mu Alpha Sinfonia at Morgan State University, Howard University, Shepherd University, George Mason University and Shenandoah Conservatory.
This year marks the fourth consecutive year that the Xi Mu Chapter has earned the "Most Outstanding Chapter" award in Province 27. 
The Charles E. Lutton Province Merit Award recognizes the chapter in each province that earns the most citations in a three-year period. Citations represent standards of excellence in seven categories, which include musical achievement, fraternal tradition, membership development, province interaction, chapter operations, special projects and Alumni Eelations. 
"I know I speak for the entire chapter when I say how honored we are to receive these two distinct awards," says Matthew Wiltshire, president of the Xi Mu Chapter. "We work very hard to advance the cause of music." 
About Phi Mu Alpha Sinfonia
Phi Mu Alpha Sinfonia Fraternity of America is a national fraternity that aims to advance music in America and produce men of the highest type through music. It hosts 237 active chapters in 44 states and has over 100,000 living alumni. The Xi Mu Chapter at the University of Delaware hosts recitals for the UD community, performs for local nursing home and hospital patients and holds the annual Sinfonia Concert Band Festival each spring.
For more information, visit the Xi Mu Chapter of Phi Mu Alpha Sinfonia's website.