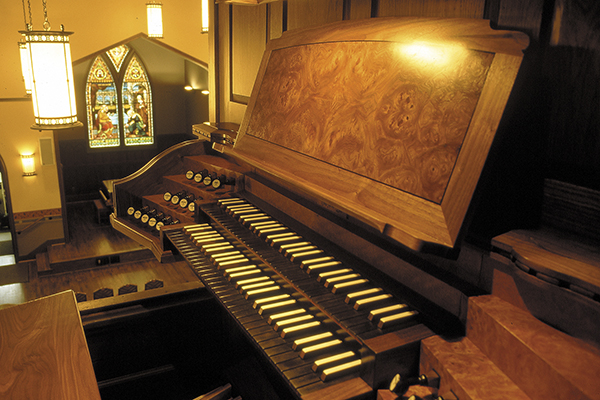 March 19: 'Music for a While'
Department of Music sets new series featuring Jefferson Pipe Organ
11:49 a.m., March 14, 2013--The University of Delaware Department of Music has announced "Music for a While," a new series featuring the Jefferson Pipe Organ in Bayard Sharp Hall.
Programs will be held on selected weekdays at noon and will last from 30-40 minutes. Audience members are invited to bring their lunches to enjoy during the programs.
June 5: Blue Hen 5K
University of Delaware graduates planning to attend Alumni Weekend are encouraged to register for the annual Blue Hen 5K walk and run, which will be held Sunday morning, June 5.
June 6-9: Food and culture series
The 20th annual June Lecture Series at the Osher Lifelong Learning Institute at UD in Wilmington will be held June 6-9. Titled 'June a la Carte,' this year's program focuses on great political documents, feminism, world politics and a Newark cuisine sampler.
The title comes from the poet John Dryden, who wrote, "Music for a while … Shall all your cares beguile."
The first program, "Bach is Cool," will be held at noon Tuesday, March 19. It will feature music by J.S. Bach, whose birthday is March 21.
The performers will be David Herman, Trustees Distinguished Professor Emeritus of Music and University organist, and Michael Arenson, professor emeritus, piano.
The second program will be held at noon, Monday, May 6, and Herman will present a recital of French music for organ.
The program is part of World Organ Day, a global event commissioned by the Cathedral of Notre Dame in Paris as part of its 850th-anniversary celebration. The program will feature music composed by Notre Dame organists from the 18th to the 20th centuries.
Photo by Lane McLaughlin