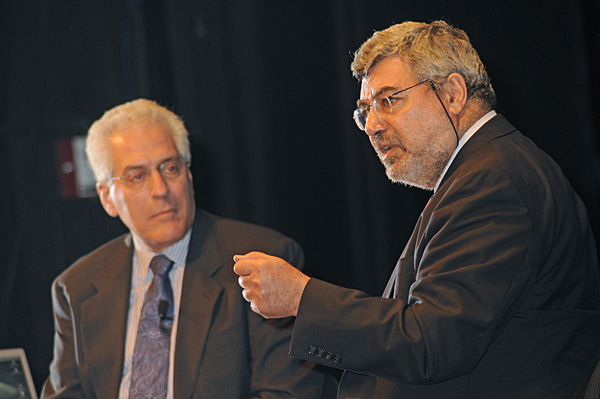 March 13: Global Agenda series
Political columnist Khouri to discuss 'U.S. Role in the Middle East'
8:23 a.m., March 11, 2013--Rami Khouri, an internationally syndicated political columnist and author, will discuss "The U.S. Role in the Middle East" when the University of Delaware's Global Agenda speaker series continues at 7:30 p.m., Wednesday, March 13, in Mitchell Hall.
Khouri is editor-at-large of Beirut's Daily Star newspaper and director of the Issam Fares Institute of Public Policy and International Affairs at the American University of Beirut.
June 5: Blue Hen 5K
University of Delaware graduates planning to attend Alumni Weekend are encouraged to register for the annual Blue Hen 5K walk and run, which will be held Sunday morning, June 5.
June 6-9: Food and culture series
The 20th annual June Lecture Series at the Osher Lifelong Learning Institute at UD in Wilmington will be held June 6-9. Titled 'June a la Carte,' this year's program focuses on great political documents, feminism, world politics and a Newark cuisine sampler.
He also serves as a nonresident senior fellow at the Kennedy School of Harvard University and the Dubai School of Government, and teaches and lectures at the University of Chicago and Northeastern University.
Khouri is a fellow of the Palestinian Academic Society for the Study of International Affairs (Arab East Jerusalem), and a member of the Leadership Council of the Harvard University Divinity School and the International Advisory Council of the Nieman Journalism Foundation at Harvard University.
The Global Agenda series is considering "America's Role in the World," and speakers include journalists, national security experts and international government officials.
Global Agenda presentations are moderated by Ralph Begleiter, director of the Center for Political Communication, and are free and open to the public.
For details, see the Global Agenda website.
Photo by Duane Perry