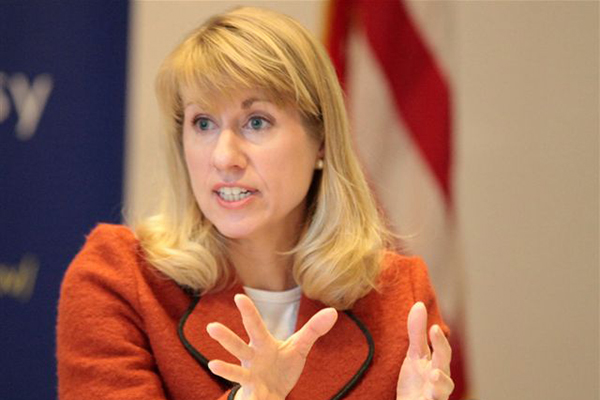 April 3: Global Agenda
Former diplomat Conley to discuss America's role in Europe
1:29 p.m., March 27, 2013--Former U.S. diplomat Heather A. Conley will speak on the topic "The U.S. Role in Europe" during a University of Delaware Global Agenda presentation at 7:30 p.m., Wednesday, April 3, in Mitchell Hall.
Conley served in the State Department's Bureau for European and Eurasian Affairs with responsibilities for U.S. bilateral relations with the 15 countries of northern and central Europe, and earlier in the Bureau of Political-Military Affairs.
June 5: Blue Hen 5K
University of Delaware graduates planning to attend Alumni Weekend are encouraged to register for the annual Blue Hen 5K walk and run, which will be held Sunday morning, June 5.
June 6-9: Food and culture series
The 20th annual June Lecture Series at the Osher Lifelong Learning Institute at UD in Wilmington will be held June 6-9. Titled 'June a la Carte,' this year's program focuses on great political documents, feminism, world politics and a Newark cuisine sampler.
Conley is senior fellow and director of the Europe Program at the bipartisan Center for Strategic and International Studies (CSIS), one of Washington, D.C.'s major nonpartisan think tanks. Prior to joining CSIS, she was a senior adviser to the Center for European Policy Analysis. 
From 2005-08 she was the executive director of the Office of the Chairman of the Board at the American National Red Cross, and from 2001-05 she served as deputy assistant secretary of state in the Bureau for European and Eurasian Affairs. 
Conley began her career in the Bureau of Political-Military Affairs at the U.S. Department of State where she served as the State Department liaison for the U.S. Department of Defense's Global Humanitarian Assistance Program. Following that assignment, she was selected as special assistant to the coordinator of U.S. assistance to the newly independent states of the former Soviet Union.
The presentation will be moderated by Ralph Begleiter, director of the UD Center for Political Communication.
The Global Agenda series is considering "America's Role in the World," and speakers include journalists, national security experts and international government officials. The series is free and open to the public.