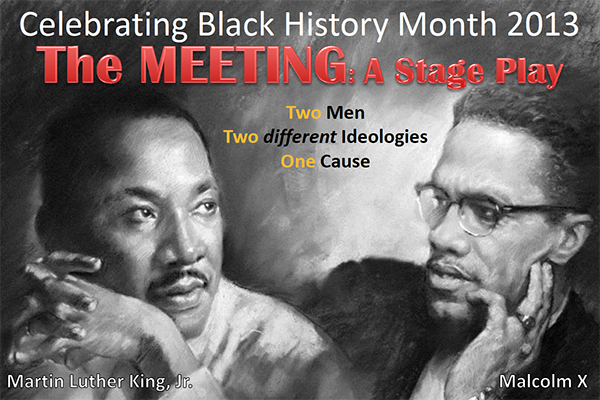 March 13: 'The Meeting'
Cultural Programming Advisory Board sponsors presentation of 'The Meeting'
3:31 p.m., March 1, 2013--The Meeting, a riveting stage production designed to help the audience envision what a secret meeting between the Rev. Dr. Martin Luther King Jr. and Malcolm X might have been like, will be presented at 7 p.m., Wednesday, March 13, in the Multipurpose Rooms of the Trabant University Center on the University of Delaware campus in Newark.
The fictional play, which is sponsored by UD's Cultural Programming Advisory Board, is free and open to the public. The doors will open at 6:30.
June 5: Blue Hen 5K
University of Delaware graduates planning to attend Alumni Weekend are encouraged to register for the annual Blue Hen 5K walk and run, which will be held Sunday morning, June 5.
June 6-9: Food and culture series
The 20th annual June Lecture Series at the Osher Lifelong Learning Institute at UD in Wilmington will be held June 6-9. Titled 'June a la Carte,' this year's program focuses on great political documents, feminism, world politics and a Newark cuisine sampler.
The Meeting is set in February, 1965, and a Harlem hotel room is the backdrop for the momentous encounter between two of the most influential men of their time.
It examines issues that remain relevant today – war, poverty, racism and the need for self-empowerment.
The Cultural Programming Advisory Board will be raffle tickets to the spring concert at the event. For details, call the Center for Black Culture at 302-831-2991.