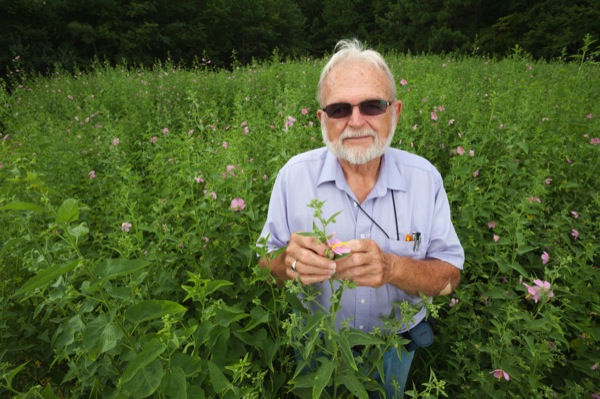 June 20: Ocean Currents Lecture
Lecture series continues with discussion of plants in the coastal environment
1:43 p.m., June 11, 2013--When two ecosystems meet, the intersecting area has characteristics of both — and unique properties resulting from the interaction. This type of transition zone, called an ecotone, is found along Delaware's coast.
"When land meets sea, a conversation happens," said Jack Gallagher, professor emeritus of marine biosciences and co-director of the Halophyte Biotechnology Center (HBC) in the University of Delaware's College of Earth, Ocean, and Environment. 
June 5: Blue Hen 5K
University of Delaware graduates planning to attend Alumni Weekend are encouraged to register for the annual Blue Hen 5K walk and run, which will be held Sunday morning, June 5.
June 6-9: Food and culture series
The 20th annual June Lecture Series at the Osher Lifelong Learning Institute at UD in Wilmington will be held June 6-9. Titled 'June a la Carte,' this year's program focuses on great political documents, feminism, world politics and a Newark cuisine sampler.
Gallagher continues the Ocean Currents Lecture Series with a discussion on plants in the coastal ecotone at the University of Delaware's Hugh R. Sharp Campus in Lewes, Del., at 7 p.m., Thursday, June 20, in Room 104 in the Cannon Laboratory.
Titled "Living in the Coastal Ecotone: Lessons Learned from the Plants that Evolved Here," his lecture will explain properties of ecotones, how plants have adapted to live in the coastal ecotone and what people can learn from these plants to solve our own problems.
Organisms there have had to be very dynamic in their evolution to live in such a diverse environment. They either "adapt or perish," Gallagher explained.
"Plants need to be flexible to produce a resilient community," Gallagher said. "You don't ever see dune grass get up and walk away."
In addition to learning about these plants' flood, drought and salt tolerance, Gallagher said lecture attendees will find out how these plants cope with isolation and how they go about reproducing when, for instance, they're stranded in the middle of a marsh.
"Like all organisms, humans also prefer to adapt and not disappear," Gallagher said "With the threat of global warming and the recent increase in natural disasters, there is a lot we can learn from these plants."
The HBC's work is mostly focused on sustainable saline agriculture and wetlands restoration. All of the center's research is based around halophytes, which are salt-tolerant plants that can grow in and around waters with high salinity as in mangrove swamps, salt marshes and the sand dunes. They have also conducted projects on Phragmites infestations and the American beach grass on Assateague Island, among others.
HBC's research on halophyte agriculture is aimed at developing new crops to grow on land that is affected by saltwater. Its primary focus has been on forage grass so that animal feed can be grown there, which leaves the good land for growing crops for human consumption. They have so far identified about a dozen different marsh plants that could be used globally for forage, grain, vegetables, firewood and horticulture.
Gallagher's lecture is free and open to the public, but reservations are required due to limited seating and can be made by contacting Marcia Pettay at mpettay@udel.edu or 302-645-4346. Light refreshments will be served. The Hugh R. Sharp Campus is located at 700 Pilottown Road in Lewes, Del.
Article by Andrew Cooper
Photo by Evan Krape