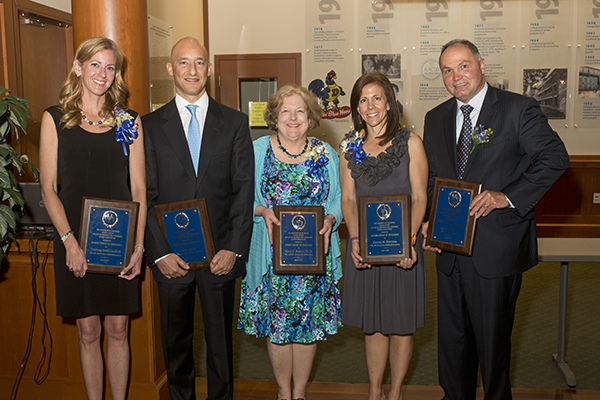 Lerner alumni recognized
Lerner College honors five alumni for professional, social excellence
10:21 a.m., June 3, 2013--Five University of Delaware alumni from the Alfred Lerner College of Business and Economics received the college's elite 2013 Alumni Award of Excellence.
Honored during a reception and awards ceremony held Friday, May 31, in the Lerner Hall Atrium were Tevfik Aksoy, who received a master's degree in economics in 1993 and a doctorate in economics in 1995; Gerard J. Emery, who received a bachelor's degree in accounting in 1986; Courtney Smith Goodrich, who received a bachelor's degree in business administration in 1993; Mary C. Suiter, who received a master's degree in economic education in 1989; and Natalie D. Ramsey, who received a bachelor's degree in accounting in 1981. Ramsey was unable to attend.
National Medal of Science
President Barack Obama recently presented the National Medal of Science to University of Delaware alumnus Rakesh Jain.
Warren Award
Rosalind Johnson, assistant dean for student success in the NUCLEUS Program in UD's College of Arts and Sciences, was presented the John Warren Excellence in Leadership and Service Award during a May 26 ceremony.
Only 76 of 25,000 alumni have received the award, which was started in 1971. 
Award winners were photographed and guests enjoyed an extensive food and beverage buffet before Bruce Weber, dean of the Lerner College, opened the ceremony by describing it as "one of my favorite events of the academic year." 
Weber addressed Lerner's future, highlighting a new undergraduate major in entrepreneurship for the 2013-14 academic year. He then passed the torch to Lerner Alumni Board member John Linthicum for award presentations.
Linthicum, who graduated from UD with honors in 2003 with a bachelor's degree in finance and a minor in economics, praised Lerner's faculty, saying they are "creating a terrific ecosystem." The quality of instruction is passed to students and this year's awardees are a perfect example of that quality, he said.
Linthicum touched on three criteria met by each of the award recipients -- these alumni have achieved exceptional accomplishments in their careers, they have and continue to show support in their communities, and they have generously given back to UD.
Donna Fontana, honored in 2012 but unable to attend the ceremony that year, was recognized first.
Tevfik Aksoy
In addition to his UD degrees, Tevfik Aksoy possesses a bachelor's degree and an MBA in mechanical engineering from the Middle East Technical University in Turkey.
Currently, Aksoy is a managing director and the head of central Eastern Europe, Middle East and Africa economics at Morgan Stanley. He is responsible for the macroeconomic coverage of Turkey and Israel.
Before joining Morgan Stanley in 2008, Aksoy had a similar position at Deutsche Bank. He has 23 years of professional experience, 18 of which are in banking.
Gerard J. Emery
Gerard J. Emery has more than 25 years of experience providing auditing, accounting and financial services to both private and public companies. He has provided assurance services to businesses in a broad range of industries, including technology, media and entertainment, telecommunications and industrial and consumer products.
Currently, Emery is a partner at Ernst and Young LLP, where he serves three global clients that have operations in the majority of the significant international markets. He has led Ernst and Young's Assurance Quality Review (AQR) efforts in many of these regions through his long-term participation in their international AQR program. 
Emery has led the firm's efforts in various public offerings and has extensive experience in dealing with highly transaction-oriented and acquisitive companies.
Emery dedicates time to his community through his involvement on the board of trustees of the Mastery Charter Schools and the Philadelphia Zoo's Corporate Leadership Council. He and his wife Donna live in Newtown Square, Pa. They have four children and two grandchildren.
Courtney Smith Goodrich
Courtney Smith Goodrich holds a bachelor's degree in business management and a master's degree in public administration, both from UD.
Currently the firm's global technology resource manager, she works in the office of the chief information officer of JPMorgan Chase. She oversees the firm's technology resource and location strategy, helping to determine the most cost effective and efficient locations for technology staff across the firm. In addition, she also manages the strategic IT vendor relationships and oversees JPMorgan Chase's technology training and university collaboration programs.
Starting as an intern, she has worked at JPMorgan Chase for over 19 years. Her career has been focused on the field of technology, with a scope of experience spanning multiple financial businesses including the investment bank, private bank, treasury and security services and the firm's internal corporate businesses.
A native New Yorker, she now lives in Pennsylvania with her husband and daughter.
Mary C. Suiter
Mary C. Suiter earned a master of arts degree in economics and entrepreneurship for educator from UD in 1989. She holds a bachelor's degree in economics and a doctorate in teaching and learning, both from the University of Missouri St. Louis. She received the National Association of Economic Educator's Bessie B. Moore Service Award in 1996 and its Patricia K. Elder International Award in 2010.
Suiter has been active in economic and financial education for 25 years. Currently, she is the economic education officer at the Federal Reserve Bank of St. Louis, where her team is responsible for developing online programming for use in high school classrooms and K-8 online lessons plans and interactive whiteboard applications.
Prior to joining the St. Louis Fed, she was director of the Center for Entrepreneurship and Economic Education at the University of Missouri St. Louis for three years and associate director for 10 years. She is past president of the National Association of Economic Educators. 
She served on the writing committee for the first edition of the Voluntary National Content Standards in Economics and has authored and co-authored numerous social studies and personal finance curricula.
Suiter was an instructor in the Council for Economic Education's (CEE) International Training of Trainers program. She co-authored the CEE's International Training of Writers program and conducted the training for this program for 12 years. 
Suiter has been married for 40 years to David Suiter. They have three children and four grandchildren.
Natalie D. Ramsey
Natalie D. Ramsey is the chair of the bankruptcy and corporate restructuring section, vice-chair of the corporate litigation section, and a partner in both the corporate and litigation departments at Montgomery McCracken Walker and Rhoads LLP. She is a corporate bankruptcy specialist, and is certified by the American Board of Certification.
Ramsey is presently the chair of the Consumer Bankruptcy Assistance Project. She is a past chair of the Eastern District of Pennsylvania Bankruptcy Conference, a member of the Delaware Bankruptcy American Inn of Court, and participates in other local and national professional organizations. She served as chair of Delaware Valley Habitat for Humanity from 1999 to 2003, and continues to be an active volunteer for the organization.
Ramsey is a fellow in the American College of Bankruptcy, and a fellow of the American Bar Foundation.
Article by Christopher W. Pinti
Photo by Duane Perry