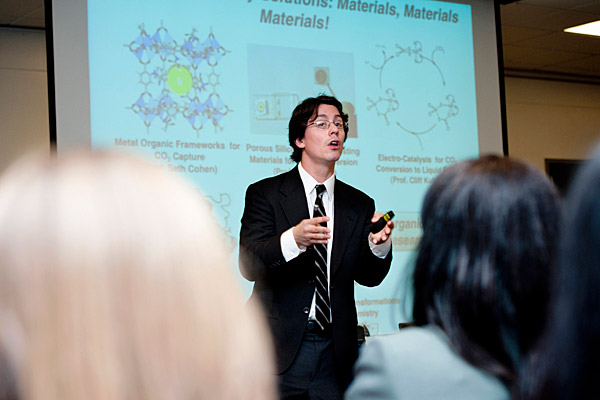 Presidential recognition
UD alumnus Figueroa wins national award for research in chemistry
10:02 a.m., July 25, 2012--Joshua S. Figueroa, a University of Delaware alumnus and assistant professor of chemistry and biochemistry at the University of California San Diego, has been selected a recipient of the prestigious Presidential Early Career Award for Scientists and Engineers (PECASE).
PECASE is the highest honor bestowed by the U.S. government on scientists and engineers in the early stages of their independent research careers.
National Medal of Science
President Barack Obama recently presented the National Medal of Science to University of Delaware alumnus Rakesh Jain.
Warren Award
Rosalind Johnson, assistant dean for student success in the NUCLEUS Program in UD's College of Arts and Sciences, was presented the John Warren Excellence in Leadership and Service Award during a May 26 ceremony.
Figueroa, who received a bachelor of science degree in chemistry from UD in 2000, was among 96 PECASE recipients named Monday, July 23, by President Barack Obama.
"I am thrilled and humbled by the award," Figueroa said. "I owe a lot to UD, and especially the faculty in the Department of Chemistry and Biochemistry, for providing me with such a solid foundation for my independent career."
Figueroa was nominated for the award by the National Science Foundation, one of nine federal departments and agencies that join together annually to nominate the most meritorious scientists and engineers whose early accomplishments show the greatest promise for assuring America's preeminence in science and engineering and contributing to the awarding agencies' missions.
Awardees are selected for their pursuit of innovative research at the frontiers of science and technology and their commitment to community service as demonstrated through scientific leadership, public education or community outreach.
Figueroa was recognized "for innovative use of bulky organic isocyanides to stabilize and isolate transition metal complexes, offering potential applications in alternative energy and sustainable science and technology, and for exemplary teaching, mentoring and outreach activities."
"Discoveries in science and technology not only strengthen our economy, they inspire us as a people," Obama said in announcing the PECASE recipients. "The impressive accomplishments of today's awardees so early in their careers promise even greater advances in the years ahead."
Figueroa is one of two UD alumni to have been named PECASE recipients in 2012. Also honored was John K. Kitchin, associate professor of chemical engineering at Carnegie Mellon University.
About Joshua S. Figueroa
Joshua S. Figueroa graduated from the University of Delaware in 2000. While at UD, he engaged in undergraduate research with Arnold L. Rheingold, then a professor in the Department of Chemistry and Biochemistry, studying ring rearrangements in trispyrazolylborate transition metal compounds. These studies aided the understanding of elementary processes in common organometallic compounds and catalysts.
After graduating from UD, Figueroa attended the Massachusetts Institute of Technology, earning a doctorate in inorganic chemistry in 2005. 
He was a National Institutes of Health Postdoctoral Fellow at Columbia University and joined the faculty at UC San Diego in 2007. 
His current research centers on the design and synthesis of highly tailored and reactive transition metal complexes for small molecule activation chemistry.
Figueroa returned to UD in May as plenary speaker at the 29th annual Senior Thesis Symposium, hosted by the Undergraduate Research Program.
Comments from professors
John Burmeister, Alumni Distinguished Professor of Chemistry and Biochemistry, said the PECASE "completes an extraordinary research quadrifecta" for Figueroa in adding to three previous honors -- the National Science Foundation Faculty Early Career Development Award in 2010, the Alfred P. Sloan Research Fellowship in 2011 and the Department of Energy Early Career Award in 2012.
"Any one of these awards would be sufficient cause for admiration and congratulations," Burmeister said. "Josh's cup runneth over, and deservedly so."
Burmeister, who introduced Figueroa at the Senior Thesis Symposium, recalled the honoree's student years at UD, where he "expressed a burning desire to do chemical research -- the difference was that he really meant it."
Figueroa's subsequent doctoral and postdoctoral stints at MIT and Columbia "produced a steady stream of plaudits and superlatives," Burmeister said.
He added that "circles frequently interlock in chemistry," and that such has been the case with Figueroa, who early on began working with Rheingold in an association that extended through his years at UD.
"By assuming an assistant professorship at the University of California San Diego, he was reunited with Prof. Rheingold who, by then, had formally retired from UD only to restart his professorial career at UC San Diego," Burmeister said.
Rheingold said he realized from the start that Figueroa had the potential for an outstanding career in chemistry and biochemistry.
"It was obvious to me in about four minutes of conversation that he was destined for greatness," Rheingold said, adding, "His chemical intuition was then and remains today the sharpest of anyone I have mentored. From even his early days, he had an uncanny rapport with molecules; he could envision their properties and instinctively create synthesis pathways."
Since Figueroa's arrival at UC San Diego, "his record has been stunning," Rheingold said. "As I have assisted him in his crystallographic needs here, I can offer that his productivity in just that regard has been unprecedented. In five years, his students have done over 700 structures of new compounds. Two of the most recent ones have been truly without precedent -- the coordination of alkanes and rare-gas atoms, two materials devoid of any normal ligand potential. Such chemistry is only possible when the most scrupulously detail-oriented work is done by incredibly skillful people."
Figueroa is "by any measure I can apply, the finest young inorganic chemist in the world," Rheingold said.
Article by Neil Thomas
Photo by Kathy F. Atkinson