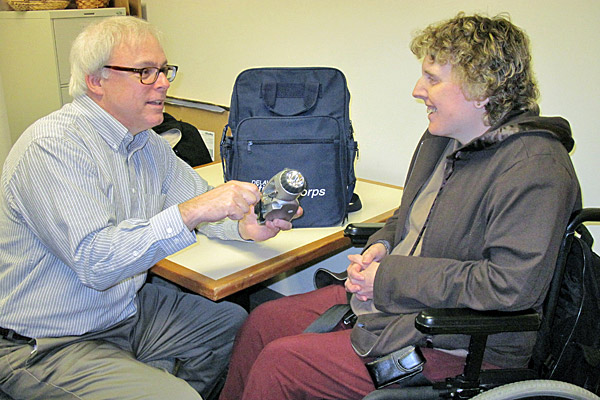 Aug. 1: CDS Lunchtime Learning
Center sets session on developing emergency readiness plan
9:59 a.m., July 9, 2012--Developing a plan for an emergency situation helps individuals and families know what to do, where to go (or how to stay in place), and the kind of supplies to have ready. Advanced preparation for an emergency is even more critical for individuals with disabilities because of the additional challenges they face.
To help campus and community members prepare for emergencies, the University of Delaware's Center for Disabilities Studies will present a special two-hour Lunchtime Learning session, "Developing a Personalized Emergency Readiness Plan for You and Your Family," on Wednesday, Aug. 1.
June 5: Blue Hen 5K
University of Delaware graduates planning to attend Alumni Weekend are encouraged to register for the annual Blue Hen 5K walk and run, which will be held Sunday morning, June 5.
June 6-9: Food and culture series
The 20th annual June Lecture Series at the Osher Lifelong Learning Institute at UD in Wilmington will be held June 6-9. Titled 'June a la Carte,' this year's program focuses on great political documents, feminism, world politics and a Newark cuisine sampler.
Phyllis Guinivan, project director, and Gary Mears, research associate, of the center's Emergency Preparedness for Individuals with Disabilities project, will lead the interactive program on how families can prepare for emergencies.
Participants may attend only the first part of the session, from noon-1 p.m., or remain until 2 p.m. for the entire session.
During the first hour, each participant will receive a packet that contains an emergency readiness plan. Guinivan and Mears will discuss the steps to take to develop an emergency plan so that each participant will be able to personalize the plan with information he or she will need during an emergency.
During the second hour, Guinivan and Mears will conduct training on how to assist an individual with a disability to prepare a personalized emergency readiness plan. Attendees will participate in an exercise that demonstrates how they can help individuals with disabilities address the extra challenges they may face during an emergency.
The Lunchtime Learning session will be held at the Center for Disabilities Studies, 461 Wyoming Road, Newark. 
Participants are encouraged to stay for the entire two-hour session, but may attend for the first hour only. The program is free of charge and open to the public; however, reservations should be made to ensure there will be enough emergency readiness plan packets for all participants. Individuals with disabilities may want to may want to bring a partner to assist with the emergency readiness plan. 
Contact Meredith Cooke at mercooke@udel.edu or 302-831-3632 and indicate if you need an accommodation. Attendees are welcome to bring a bag lunch. Water and snacks will be served. 
About the Center for Disabilities Studies
The Center for Disabilities Studies at the University of Delaware supports the well-being, inclusion and empowerment of people with disabilities and their families.
The mission of the center is to enhance the lives of individuals and families through education, prevention, service and research related to disabilities. 
CDS promotes independence and productivity so individuals and families can fully participate in the life of their communities in Delaware and beyond. For further information, visit the CDS website or call 302-831-6974.