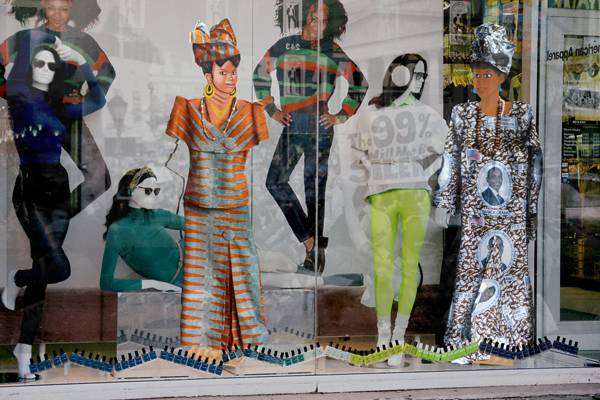 Feb. 6-May 12: Tuggar exhibition
UD hosts exhibition 'Fatimah Tuggar: In/Visible Seams' at Mechanical Hall Gallery
1:11 p.m., Jan. 29, 2013--An exhibition featuring the innovative work of Nigerian-born artist Fatimah Tuggar in the form of large-scale computer montages will be on view this spring at the University of Delaware.
The exhibition "Fatimah Tuggar: In/Visible Seams" will be shown Feb. 6-May 12 in the Mechanical Hall Gallery.
June 5: Blue Hen 5K
University of Delaware graduates planning to attend Alumni Weekend are encouraged to register for the annual Blue Hen 5K walk and run, which will be held Sunday morning, June 5.
June 6-9: Food and culture series
The 20th annual June Lecture Series at the Osher Lifelong Learning Institute at UD in Wilmington will be held June 6-9. Titled 'June a la Carte,' this year's program focuses on great political documents, feminism, world politics and a Newark cuisine sampler.
Tuggar's ink-jet on vinyl prints fashion alternate vistas through processes that include photography, image capture, cut and paste, superimposition and digital manipulation.
Working with methods Tuggar describes as montage, collage and assemblage, her images, videos and objects offer distinct combinations of wit and irony, compassion and critique.
Sourcing a global range of imagery, often from Nigeria and the United States, and mining archival as well as contemporary media, Tuggar's fusion images and videos are not fictions per se but rather surreal combines of diverse realities, both made starker by their juxtaposition.
"Borrowing from the realms of advertising, popular entertainment, folklore, and the experiential, I use technology as medium, subject and metaphor," notes the artist. 
"Fatimah Tuggar: In/Visible Seams" presents a selection of large-scale computer montages from 1995 to 2012, such as Voguish Vista (2012), and showcases the artist's alluring, often unsettled temporal, spatial and geographic conjunctions.
Tuggar's renowned video collage, Fusion Cuisine (2000) and her assemblage work, Tum Tum and Tabarma (1998) are included in this solo exhibition of her work.
Born in 1967 in Kaduna, Nigeria, Tuggar attended the Blackheath School of Art in London, received her bachelor of fine arts degree from the Kansas City Art Institute and her master of fine arts degree from Yale University. Tuggar is on the faculty of the University of Memphis.
Talk by the artist
A talk featuring Tuggar will be held at 5 p.m., Tuesday, March 5, in 130 Smith Hall as part of UD's Distinguished Artist Lecture Series. The series is sponsored by the College of Arts and Sciences' Paul R. Jones Initiative, the President's Diversity Initiative, the University Museums and the Department of Art. 
A reception will follow in Mechanical Hall from 6-7 p.m. Mechanical Hall Gallery will open at 4 p.m. on Tuesday, March 5. These events are open to the public free of charge; for reservations email universitymuseums@udel.edu or call 302-831-8037.
Smith Hall is located at 18 Amstel Avenue, near South College Avenue in Newark.
About Mechanical Hall Gallery
Mechanical Hall Gallery is open to the public free of charge. The gallery is located on North College Avenue just north of Main Street in downtown Newark.  For hours and information, see the University Museums website or call 302-831-8037.