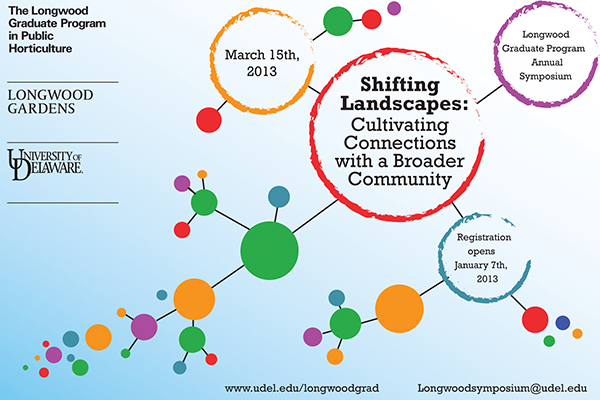 March 15: Cultivating connections
Longwood Graduate Program symposium looks at 'Shifting Landscapes'
11:41 a.m., Jan. 24, 2013--The Longwood Graduate Program at the University of Delaware has announced that its 2013 symposium, "Shifting Landscapes: Cultivating Connections with a Broader Community," will be held Friday, March 15, at Longwood Gardens in Kennett Square, Pa.
The symposium will focus on one of the greatest challenges that public gardens face today -- remaining relevant within their communities.
June 5: Blue Hen 5K
University of Delaware graduates planning to attend Alumni Weekend are encouraged to register for the annual Blue Hen 5K walk and run, which will be held Sunday morning, June 5.
June 6-9: Food and culture series
The 20th annual June Lecture Series at the Osher Lifelong Learning Institute at UD in Wilmington will be held June 6-9. Titled 'June a la Carte,' this year's program focuses on great political documents, feminism, world politics and a Newark cuisine sampler.
Societal behaviors constantly shift with changes in local demographics, generational preferences and cultural traditions yet seldom are these social patterns reflected in the audience of the public garden.
By presenting some of the brightest minds in public horticulture, social cohesion, environmental psychology and education, the symposium will explore how public gardens can integrate a broader audience into their garden and become an invaluable asset to all of society.
Registration will be open until March 8.
For more information regarding registration, speakers, schedule of the day and other important information, visit the symposium website.