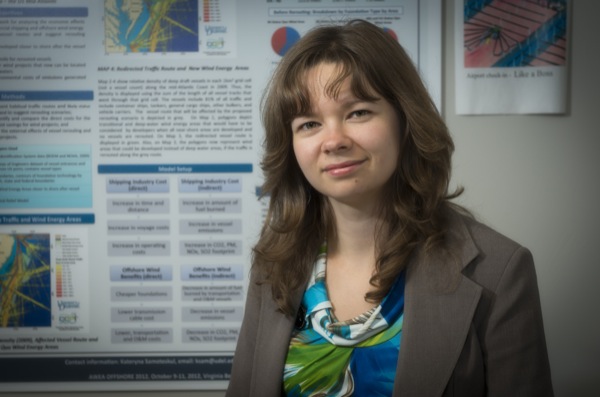 NOAA fellowship
Marine policy student heading to Washington for prestigious Knauss Fellowship
9:53 a.m., Jan. 3, 2013--University of Delaware graduate student Kateryna Samoteskul will get an insider's look at marine policy decision-making when she heads to Washington, D.C., in February to begin her Dean John A. Knauss Marine Policy Fellowship.
Samoteskul, a master's degree student in marine policy in the College of Earth, Ocean, and Environment, will spend a year working in the National Oceanic and Atmospheric Administration (NOAA) Climate Program Office.
National Medal of Science
President Barack Obama recently presented the National Medal of Science to University of Delaware alumnus Rakesh Jain.
Warren Award
Rosalind Johnson, assistant dean for student success in the NUCLEUS Program in UD's College of Arts and Sciences, was presented the John Warren Excellence in Leadership and Service Award during a May 26 ceremony.
"The experience will give me a sense of how a federal agency works and how scientific information is communicated to policy makers and the community at large," she said.
The National Sea Grant College Program and NOAA sponsor the program, which provides a unique educational experience to students interested in the national policy decisions that affect ocean, coastal and Great Lakes resources.
Graduate students apply through Delaware Sea Grant and other states' Sea Grant programs, and qualified applicants are matched with various agencies in the legislative and executive branches of the federal government for paid assignments.
"I am a big fan of the Knauss Fellowship program because it provides opportunities for talented policy graduate students like Kateryna to gain a deeper appreciation for the nuances of policy decision-making, which then informs their work as marine policy analysts," said Jeremy Firestone, Samoteskul's faculty adviser. "Kateryna has made a tremendous contribution to UD's Center for Carbon-free Power Integration, and I am confident she will make an equally impressive impression at NOAA."
Samoteskul was among 51 Knauss fellows selected this year. As a climate program and policy analyst, she will talk to scientists about their research on climate change and then translate their findings into a practical format for NOAA personnel and outside policy makers. She will also work on strategic planning related to climate change research that the Climate Program Office manages.
One specific topic Samoteskul will examine is climate change in the Arctic and the implications for shipping through the region. Melting Arctic ice is opening trade routes previously inaccessible, she explained, and a Russian vessel recently traveled through the Arctic encountering minimal sea ice at a substantial cost savings.
"The ice is melting and there will be a lot more shipping options," she said. "Soon enough it will be a very common transportation route." 
Samoteskul and her NOAA colleagues will work to address the geopolitical, environmental and social implications of such trade — and other issues, such as untapped fossil fuels.
In her graduate work, Samoteskul helped prepare a report on potential offshore wind turbine placement off the coasts of Delaware, Maryland and New Jersey using marine spatial planning, an approach to natural resource management that balances conservation with industrial, government and recreational ocean uses.
Her master's thesis involves a cost-benefit analysis of re-routing commercial vessel traffic further offshore to open near-shore areas for offshore wind development. For example, she is examining whether there would be a net social benefit to requiring ships transiting from New York to Chesapeake Bay to travel at 35 miles offshore instead of at 25 miles. The freed-up ocean space could then be used to build wind projects.
Originally from Ukraine, Samoteskul was an exchange student in Vermont during high school and attended St. Lawrence University in upstate New York. She has long been interested in international affairs, politics and climate change, and found marine policy to be an interesting blend of the three.
She hopes that her Knauss fellowship will give her an intimate understanding of how policies are planned, lobbied for and implemented.
After she finishes the fellowship — and her master's degree at UD — next winter, Samoteskul may explore pursuing a job within the federal government or the offshore wind industry.
"Overall, it's a great networking opportunity," she said about the fellowship.
To learn more about applying to be a 2014 Knauss fellow and other Sea Grant fellowship opportunities, visit this page.
Article by Teresa Messmore
Photo by Kathy F. Atkinson