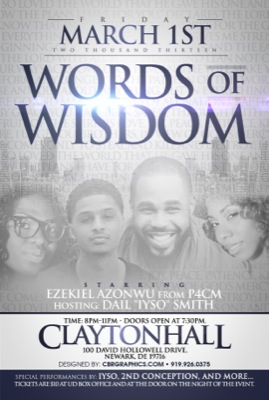 March 1: 'Words of Wisdom'
Passion for Christ's Azonwu to speak at UD's Clayton Hall
9:51 a.m., Feb. 14, 2013--Artist and evangelist Ezekiel Azonwu of the Passion for Christ Movement will be the featured speaker during a "Words of Wisdom" presentation from 8-11 p.m., Friday, March 1, in Clayton Hall on the University of Delaware campus in Newark.
The presentation, hosted by Dail (Iyso) Smith, is sponsored by UD's Warriors for Christ student organization.
June 5: Blue Hen 5K
University of Delaware graduates planning to attend Alumni Weekend are encouraged to register for the annual Blue Hen 5K walk and run, which will be held Sunday morning, June 5.
June 6-9: Food and culture series
The 20th annual June Lecture Series at the Osher Lifelong Learning Institute at UD in Wilmington will be held June 6-9. Titled 'June a la Carte,' this year's program focuses on great political documents, feminism, world politics and a Newark cuisine sampler.
In addition to Azonwu, there will be spoken word artists, singers and rappers. Performers will include 2nd Conception.
Tickets cost $10 and are available at UD box offices and at the door the night of the event.
For details, see the Facebook events site.