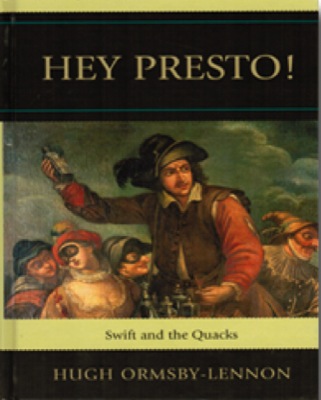 Outstanding book
University of Delaware Press book named 2012 Outstanding Academic Title
8:25 a.m., Feb. 4, 2013--Hey Presto!: Swift and the Quacks by Hugh Ormsby-Lennon has been selected by Choice: Current Reviews for Academic Libraries magazine as a 2012 Outstanding Academic Title in its Humanities, English and American category.
Its selection of Hey Presto! comes as no surprise as, in its May 2012 issue, Choice ranked it as "Highly Recommended." Its review said, "the book's sheer contextualizing detail makes it an invaluable, sustaining resource for future Swift scholarship."
National Medal of Science
President Barack Obama recently presented the National Medal of Science to University of Delaware alumnus Rakesh Jain.
Warren Award
Rosalind Johnson, assistant dean for student success in the NUCLEUS Program in UD's College of Arts and Sciences, was presented the John Warren Excellence in Leadership and Service Award during a May 26 ceremony.
Ormsby-Lennon is associate professor of English at Villanova University. He has published widely in the field of 18th-century studies.
Hey Presto! reveals how writer Jonathan Swift's imagination was galvanized by ancient and modern medicine shows. In early modern medicine shows, quack doctors sold their fake treatments with charismatic presentations involving troupes of performers. Ormsby-Lennon explores how these spectacles inspired Swift's wittiest satiric voices, especially in his A Tale of a Tub.
Choice magazine is the official review publication of the Association of College and Research Libraries and is considered, along with the New York Times Book Review, the most influential publication for acquisition decisions by North American academic libraries.
In its January 2013 issue, Choice announced its list of Outstanding Academic Titles, selected from over 7,000 titles it had reviewed in its 2012 issues.
Choice awards this honor based on a book's "overall excellence in presentation and scholarship," importance in its field, originality of subject matter or scholarly argument, and value to undergraduate student research and to the building of undergraduate library collections. Information on Choice and its Outstanding Academic Titles can be found on the magazine's website.
Hey Presto! was published in 2011 and is currently available as both a hardback and an e-book. It is just one of the University of Delaware Press's highly lauded titles.
The press publishes 35-40 books on average per year focusing on the areas of British and French literature, material culture, eighteenth-century studies, art history, and cultural studies of Delaware and the Eastern Shore. More information on Hey Presto! and the press is available at the University of Delaware Press website.