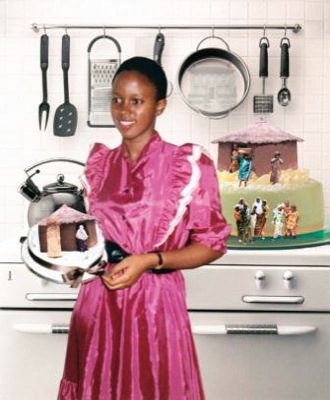 March 5: Artist Fatimah Tuggar
UD Distinguished Artist Lecture Series to present Fatimah Tuggar
10:55 a.m., Feb. 27, 2013--Fatimah Tuggar, whose work is on view at the University of Delaware's Mechanical Hall Gallery, will present a talk as part of the Distinguished Artist Lecture Series at 5 p.m., Tuesday, March 5, in 130 Smith Hall.
Tuggar is a Nigerian-born photographer who creates alluring digital photomontages that juxtapose scenes from African and American daily life.
June 5: Blue Hen 5K
University of Delaware graduates planning to attend Alumni Weekend are encouraged to register for the annual Blue Hen 5K walk and run, which will be held Sunday morning, June 5.
June 6-9: Food and culture series
The 20th annual June Lecture Series at the Osher Lifelong Learning Institute at UD in Wilmington will be held June 6-9. Titled 'June a la Carte,' this year's program focuses on great political documents, feminism, world politics and a Newark cuisine sampler.
Her works comment on potentially sensitive themes such as ethnicity, technology and post-colonial culture, although the artist chooses not to extend a didactic message, but rather to elucidate cultural nuances that go beyond obvious cross-cultural comparison. The earnest yet vibrant colors of the photo-collages enhance the deadpan effect of her technically savvy works.
Tuggar completed her master of fine arts degree at Yale University in 1992. Since then she has exhibited internationally at venues such as the Moscow Biennale of Contemporary Art (2005), Palais des Beaux-Arts in Brussels (2003), Centre Georges Pompidou in Paris (2005) and the Bamako Biennalle in Mali (2003), to name a few.
She has received numerous grants from distinguished institutions such as the Rema Mann Hort Foundation, the Civitella Ranieri Foundation and the Wheeler Foundation.
Mechanical Hall Gallery will open at 4 p.m. on March 5. Following the lecture in Smith Hall, a reception will be held from 6-7 p.m. at Mechanical Hall Gallery.
The lecture and reception are open to the public free of charge. For registration, write to universitymuseums@udel.edu or call 302-831-8037.
In addition to the lecture, Tuggar will meet with classes taught by Ikem Okoye, associate professor of art history, and Gretchen Bauer, professor and chair of the Department of Political Science and International Relations, on Tuesday morning, and with a class taught by Peter Weil, associate professor of anthropology, on Wednesday afternoon.
The Distinguished Artist Lecture Series is sponsored by the College of Arts and Sciences' Paul R. Jones Initiative, the President's Diversity Initiative, University Museums and the Department of Art.