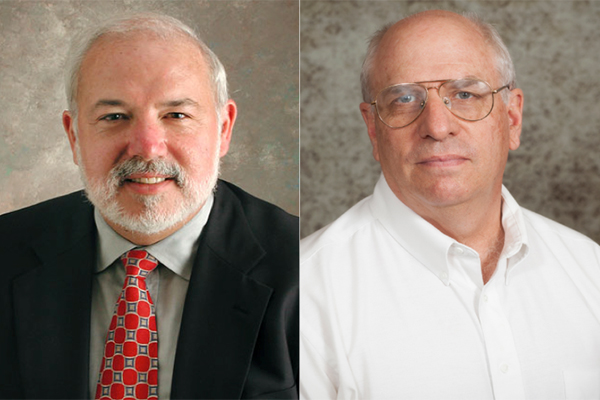 Spectroscopic innovation
Materials science professors recognized for innovative spectroscopic instrumentation
8:20 a.m., Feb. 18, 2013--Two University of Delaware faculty members -- John Rabolt, Karl W. and Renate Böer Professor of Materials Science and Engineering, and Bruce Chase, a research professor in the Department of Materials Science and Engineering -- will be honored with the Innovation in Materials Characterization award at the 2013 Materials Research Society (MRS) meeting in San Francisco, on April 3.
Given annually, the MRS award recognizes research that "expands the knowledge of materials' composition, behavior or other characteristics."
National Medal of Science
President Barack Obama recently presented the National Medal of Science to University of Delaware alumnus Rakesh Jain.
Warren Award
Rosalind Johnson, assistant dean for student success in the NUCLEUS Program in UD's College of Arts and Sciences, was presented the John Warren Excellence in Leadership and Service Award during a May 26 ceremony.
Rabolt and Chase were selected for co-developing Fourier Transform Raman (FT-Raman) spectroscopy, a technique that, for the first time, allowed the acquisition of Raman spectra of polymers in the presence of fluorescence. Developed in 1986, this type of spectroscopy allows researchers to examine "the chemical structure and properties of organic molecules and polymers in solids, thin films and solutions." 
According to Rabolt, FT-Raman instruments are found in over 2500 laboratories worldwide and have been used to conduct research that has produced thousands of papers published in peer-reviewed literature journals over the last 25 years.  
Leaders in the field of spectroscopic techniques, Chase and Rabolt founded PAIR Technologies, LLC in 2005, a company that sells Planar Array infrared (PA-IR) spectrographs, which are considered the next generation in fast, infrared spectroscopy, and is located in Newark, Delaware.
Rabolt, who joined UD in 1996, led the materials science program to departmental status as chairperson of the program. His current research focuses on polymer deformation, organic thin films, PA-IR, FT-Raman and FT-IR spectroscopy of polymers and biomolecular materials for tissue engineering scaffolds. 
Chase served thirty-four years at DuPont in the spectroscopy division of the Central Research Department before retiring in 2009 as an elite DuPont Fellow. A member of the materials science faculty, his research interests include spectroscopic techniques, vibrational analysis of polymeric fibers and thin films and materials characterization. 
About MRS
The Materials Research Society was founded in 1973, emphasizing interdisciplinary research that advances the field of materials science. With approximately 16,000 members in over eighty countries, the society sponsors two annual international meetings to promote networking and the spread of materials knowledge. 
Article by Sarah Meadows