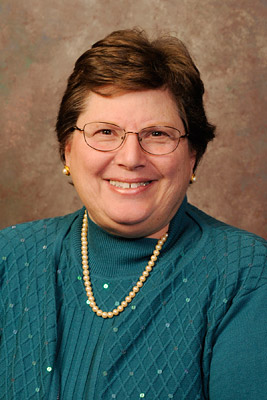 Caring for kids
Selekman selected for humanitarian award
10:46 a.m., Feb. 28, 2013--Janice Selekman never forgets that even when kids are sick, they're still kids.
"They want to play, and they want to have fun," she says. "That adds something special to the area of pediatrics — providers have to consider the needs their patients have as children, as well as their health care needs."
National Medal of Science
President Barack Obama recently presented the National Medal of Science to University of Delaware alumnus Rakesh Jain.
Warren Award
Rosalind Johnson, assistant dean for student success in the NUCLEUS Program in UD's College of Arts and Sciences, was presented the John Warren Excellence in Leadership and Service Award during a May 26 ceremony.
Selekman, who is a professor in the School of Nursing at the University of Delaware, has spent her career teaching future nurses at both the undergraduate and graduate levels. She is passionate about not only providing her students with clinical knowledge but also empowering them to advocate for their young patients.
Selekman's extensive contributions to the field were recently recognized when she was selected to receive the 2013 Barbara A. Larson Humanitarian Award from the Society of Pediatric Nurses. 
The award is given every other year to an individual, preferably a pediatric nurse, who exemplifies the ideals, values, and commitment held by Barbara Larson to serve children by working to improve their health, well-being, and/or living conditions. Larson was the founder of MEDIC, a not-for-profit foundation providing medical supplies and other resources to save the lives of children around the world.
Selekman has received a number of other awards, many of them for her contributions to the field of school nursing. She sees an increasingly important crossover between pediatric nursing and school nursing.
"The number of kids with chronic conditions has increased so significantly that it impacts nurses not only in hospitals but also in schools," she says. "School nurses today are facing much more complex medical issues than they were 20 or 30 years ago, including asthma, allergies, mental illness, intellectual disabilities, diabetes, seizure disorders, heart conditions, cystic fibrosis, and cerebral palsy. Good communication between pediatricians and school nurses is critical to providing quality care for children with these conditions."
In nominating Selekman for the award, Louise Jakubik, president and chief learning officer of Nurse Builders, wrote, "When I think of the concept of 'giving back,' I think of Janice Selekman. [She] has given back in countless ways as a local and national board member, as a committee member/liaison, and most recently as primary author of SPN's Pediatric Nursing Certification Review, a publication whose copyright she donated to SPN to provide ongoing revenue to the organization while promoting excellence in clinical practice and certification review material."
About Janice Selekman
Janice Selekman was named the Nurse Educator of the Year by the National Association of School Nurses in 2010, the Society of Pediatric Nurses in 2006, and the state of Delaware in 2010. In 2012, she was inducted as a Fellow in the National Academy of School Nursing.
She has authored more than 100 papers and an award-winning textbook, School Nursing: A Comprehensive Text. She also contributed to the establishment of a school nurse certificate program in Delaware; several years ago, she helped to craft a curriculum that focuses on the skills needed to be a school nurse, including screening, counseling, and caring for special-needs students. 
Selekman received her bachelor's degree in nursing from the University of Pittsburgh and her master's and doctoral degrees from the University of Pennsylvania. She has worked as a pediatric staff nurse, clinical nurse specialist, and pediatric nursing educator.
Selekman joined the UD faculty in 1991 and served as nursing chairperson for ten years. She has won numerous awards for outstanding teaching.
She speaks throughout the country on school health, children with chronic conditions, adolescent high-risk behaviors, and learning disabilities. Selekman was on the editorial board of Pediatric Nursing for 19 years and was the past vice president of the Society of Pediatric Nursing.
Article by Diane Kukich