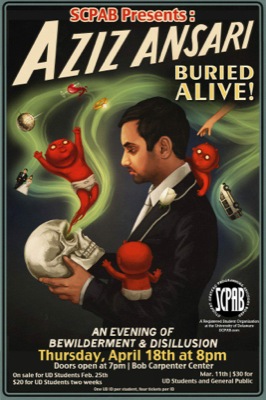 April 18: Aziz Ansari to perform
SCPAB announces comedy show featuring Aziz Ansari
1:55 p.m., Feb. 22, 2013--Actor and comedian Aziz Ansari, who portrays the character Tom Haverford in the hit NBC television series Parks and Recreation, will be featured in a show Thursday, April 18, at the University of Delaware's Bob Carpenter Center.
The show is the major spring semester event sponsored by the Student Centers Programming Advisory Board (SCPAB), a registered student organization at UD.
June 5: Blue Hen 5K
University of Delaware graduates planning to attend Alumni Weekend are encouraged to register for the annual Blue Hen 5K walk and run, which will be held Sunday morning, June 5.
June 6-9: Food and culture series
The 20th annual June Lecture Series at the Osher Lifelong Learning Institute at UD in Wilmington will be held June 6-9. Titled 'June a la Carte,' this year's program focuses on great political documents, feminism, world politics and a Newark cuisine sampler.
The comedy show will start at 8 p.m., with doors opening at 7.
Tickets will go on sale only to University of Delaware students for $20 at 9 a.m. on Monday, Feb. 25. On that day, tickets can only be purchased in the Multipurpose Room of the Trabant University Center. The Trabant opens at 7 a.m. Students must present their UD ID in order to purchase tickets, and may only purchase four tickets per UD ID.
After Feb. 25, all tickets can be purchased at the Trabant University Center Box Office or the Bob Carpenter Center Box Office. UD box office hours at the Trabant are 10 a.m. to 3 p.m., Monday through Friday, and hours at the Bob Carpenter Center are 8:30 a.m. to 4:30 p.m. Monday through Friday.
Students must purchase their tickets within the first two weeks in order to receive the reduced price. Tickets will go on sale to the public on March 11 for $30 and can be purchased at UD Box Offices or online at Ticketmaster.
Ansari is an American actor and standup comedian. He began his career performing standup comedy in New York City and has risen to become a well-known actor. Ansari has been featured in various films such as Funny People, I Love You Man and 30 Minutes or Less. He is most recently known for his role in the hit NBC television series Parks and Recreation.
For more information, visit the SCPAB website.