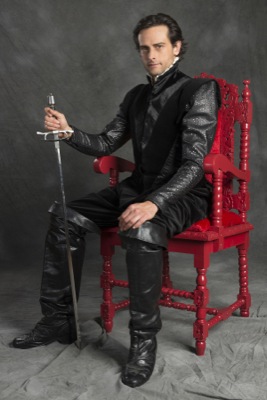 Feb. 28-March 17: REP stages 'Hamlet'
UD Resident Ensemble Players to present Shakespeare's 'Hamlet'
4:04 p.m., Feb. 25, 2013--Broadway's Tony Award-nominated director Mark Lamos returns to Delaware to stage the Resident Ensemble Players' (REP) dynamic and mesmerizing production of Shakespeare's Hamlet, Feb. 28 through March 17.
Considered one of the country's leading interpreters of Shakespeare, Lamos brings to the University of Delaware's Roselle Center for the Arts a production focusing on lush language and psychological suspense.
June 5: Blue Hen 5K
University of Delaware graduates planning to attend Alumni Weekend are encouraged to register for the annual Blue Hen 5K walk and run, which will be held Sunday morning, June 5.
June 6-9: Food and culture series
The 20th annual June Lecture Series at the Osher Lifelong Learning Institute at UD in Wilmington will be held June 6-9. Titled 'June a la Carte,' this year's program focuses on great political documents, feminism, world politics and a Newark cuisine sampler.
From the plays opening line, "Who's there?" Hamlet explores the distance between illusion and reality, sanity and madness, revenge and blood lust. "Mystery is a great and powerful part of the experience of Hamlet," Lamos says, "and audiences revel in that mystery."
REP actor Michael Gotch, who plays the title role says, "Hamlet is a ghost story, a murder mystery, a political thriller, and a love story. This production is not only stunning to look but there is also a premium placed on the action in the play and it really drives forward."
"This production is unfussy and pure period Renaissance in an abstract space," says Lamos. The set, designed by Alexander Dodge, is a psychological space, as well as a physical one, with levels, entrances and exits evoking a sense of mystery and entrapment. The costumes, designed by Fabio Toblin, are inspired by traditional Renaissance style.
Lamos made his first appearance with UD's Professional Theatre Training Program in 2006 with Peter Pan, the program's inaugural production in the Roselle Center for the Arts' Thompson Theatre, and is thrilled to return. "There is an atmosphere here that I find very powerfully positive," he says. "The actors understand what it's like to support each other and create together for the greater good. Coming to the REP, you're entering a very comfortable space that is going to be about the work."
Performances run from Saturday, March 2, through Sunday, March 17, with preview performances on Thursday, Feb. 28, and Friday, March 1. Tickets are $21-$27, with discounts for students, senior adults and University of Delaware faculty and staff.
Tickets can be purchased by calling the REP box office at 302-831-2204 or in person at the Roselle Center for the Arts, 110 Orchard Rd., Newark, Monday through Friday, from noon until 5 p.m.
The performance schedule for Hamlet is as follows: Feb. 28 and March 1, 2, 7, 8, 9, 14, 15, and 16, at 7:30 p.m.; March 3, 9, 16, and 17 at 2 p.m.
Prior to the 2 p.m. performance on Saturday, March 9, is the REP Prologue, a free and informal 20-minute presentation about the production, designed to enhance patrons' enjoyment and understanding of what they are about to experience. 
A talk-back with the cast will take place following the evening performance on Thursday, March 7.
The Roselle Center for the Arts is located at 110 Orchard Road, on the corner of Orchard Road and Kent Way, in Newark. A convenient parking garage is attached to the center.
A complete schedule, directions, and information on purchasing tickets can be found at the REP's website or by calling the REP's box office at 302-831-2204.
About Mark Lamos
Mark Lamos began his tenure as artistic director of Connecticut's Westport Country Playhouse in February 2009. Before that, he served the same post at Hartford Stage Company from 1980 to 1997, for which he accepted the Tony Award in 1988. 
He made his Broadway debut with Our Country's Good (Tony nomination, best director). Other Broadway credits include Edward Albee's Seascape (Tony nomination, best revival), Fascinating Rhythm, The Deep Blue Sea, and, for Lincoln Center Theater The Rivals, Cymbeline, premieres of A.R. Gurney's The Grand Manner and Big Bill, as well as Measure For Measure (Lortell Award).
Off Broadway credits include additional Gurney works for Primary Stages, as well as premieres by Jon Robin Baitz, Lee Blessing, and Albee's Tiny Alice (Lortell Award), As You Like It for Public Theater in Central Park, and Love's Fire, a series of short plays by Kushner, Wasserstein, Bogosian and others for the Acting Company at the Public Theater.
Regional work includes the Guthrie, Chicago Shakespeare Theater, San Francisco's ACT, Cincinnati Playhouse in the Park, San Diego's Old Globe, the Shakespeare Theater in Washington, D.C., Baltimore's Center Stage, and the Kennedy Center.
He works extensively in opera, having directed four new productions for the Met, and many more for NYCOpera, Glimmerglass, Canadian Opera, Opera du Montreal, and the opera companies of San Francisco, Chicago, Los Angeles, San Diego, Dallas, Washington, Gothenburg, Sweden, and Bergen, Norway. He was the first American to direct a Russian theatre company, Moscow's Pushkin Theater. 
Lamos has received honorary doctorates from Trinity College, Connecticut College, and the University of Hartford and is an artistic associate of Yale Rep, where he was a Beineke Fellow. He has taught and held chairs at Yale, University of Michigan, University of Florida, and Southern Methodist.
He is featured in Samuel L. Leiter's The Great Stage Directors. A former actor with extensive Broadway, Off-Broadway, and regional credits, he made his film debut in Longtime Companion.
About the REP
Formed in 2008, the Resident Ensemble Players (REP) is Delaware's only professional resident acting company in residence at the University of Delaware. Initially formed as the Equity component of the acclaimed Professional Theatre Training Program, UD's graduate theatre program, to provide mentoring support and performance opportunities to current graduate and undergraduate students, the REP has evolved into one of the most reputable theatre companies in the region, presenting new productions of classic and modern works, as well as contemporary plays and world premieres.
Photo by Evan Krape