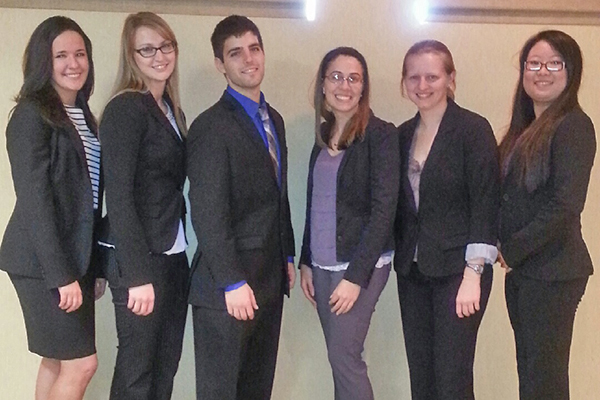 APICS competition
Lerner students win grand prize in operations management competition
11:38 a.m., Feb. 20, 2013--A grand prize win at an operations management competition by six students in the Alfred Lerner College of Business and Economics means the team will now advance to an international competition in Orlando, Fla., this September.
Michelle Barineau, Kimberly Eagle, Alex Liberatore, Jaclyn Williams, Hong Yin and Arielle Rich competed in the fourth annual student case competition presented by the APICS (Advancing Productivity, Innovation and Competitive Success) Mid-Atlantic District earlier this month.
National Medal of Science
President Barack Obama recently presented the National Medal of Science to University of Delaware alumnus Rakesh Jain.
Warren Award
Rosalind Johnson, assistant dean for student success in the NUCLEUS Program in UD's College of Arts and Sciences, was presented the John Warren Excellence in Leadership and Service Award during a May 26 ceremony.
The team traveled to Harrisburg, Pa., to compete against 11 other undergraduate and graduate teams and took home first place honors by impressing the judges with their written and presentation skills.
With the win came $5,000 that will go directly toward the team's travel to Orlando in September to compete at the International APICS meeting and presentation.
According to Christine Kydd, professor of operations management and adviser to the team, the Lerner College team's innovative solutions, grasp of operations management theories and systems and overall presence impressed both judges and peers throughout the competition.
Kydd also explained that the students were not allowed to receive any suggestions or coaching from faculty or other coaches at the competition.
"They had only themselves and their teammates to rely on in completing the analysis, which gave them valuable experience outside of the classroom and boosted their self-confidence," said Kydd.
On Friday evening, the student teams were given a case study about a Mexican auto parts supplier facing ineffective systems, troubled suppliers and employee morale problems, among other issues. 
With just 16 hours to complete their work, students were tasked with drafting a solution for presentation in the form of a five-page paper and seven-minute oral presentation to a panel of judges.
"The students did an outstanding job on very little sleep since they received the case late Friday evening and had to have a written analysis and presentation ready by 10 a.m. the following morning," said Kydd.
Tom Becker, chair of the Department of Business Administration, commended the students and said the department will contribute an award in the amount of $1,000.
"This is a highly significant accomplishment on the part of our operations management students and I am proud of them for this important achievement," said Becker.
Kydd also said the APICS Mid-Atlantic chapter approved an award to the students in the amount of $2,000. Since the competition prize money goes directly to the team's travel in September, the awards from the regional chapter and the department mean each student will receive $500 in prize money.
Article by Kathryn Meier