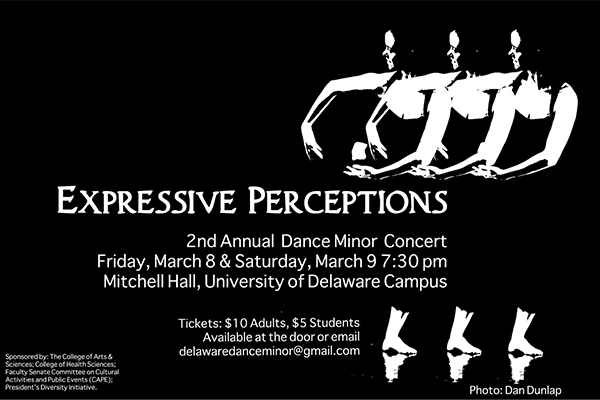 March 8, 9: Dance minor concert
Second annual dance minor concert features diverse genres of dance
11:45 a.m., Feb. 22, 2013--The University of Delaware dance minor program will present the second annual faculty concert on Friday, March 8, and Saturday, March 9, at 7:30 p.m. in Mitchell Hall. 
The concert, titled Expressive Perceptions, will feature works created by the dance minor faculty and performed by students in the minor. 
June 5: Blue Hen 5K
University of Delaware graduates planning to attend Alumni Weekend are encouraged to register for the annual Blue Hen 5K walk and run, which will be held Sunday morning, June 5.
June 6-9: Food and culture series
The 20th annual June Lecture Series at the Osher Lifelong Learning Institute at UD in Wilmington will be held June 6-9. Titled 'June a la Carte,' this year's program focuses on great political documents, feminism, world politics and a Newark cuisine sampler.
"Through the dance minor performance opportunities, the students are exposed to various forms of dance that push many out of their comfort zone to try new forms of expression," said Lynnette Overby, theatre professor and one of the instructors for the dance minor. "In this second annual concert, audience members will experience dance that informs, entertains and engages the senses."
Dance faculty members Kimberly Schroeder, SarahKim Vennard and Janice Bibik each choreographed pieces for the concert. 
Schroeder's choreographed works include a swing-style jazz piece and a contemporary piece focusing on the need for human connection. Vennard created three modern dance pieces for performers. Bibik's contemporary work, Solo, portrays the metamorphosis of an individual from one life to another. 
The concert will feature original works of composition in addition to choreography. UD composer Jennifer Margaret Barker wrote a piece for baritone and piano which will serve as the soundtrack for a dance choreographed by Overby. 
This fall semester, the President's Diversity Initiative sponsored two guest artists in residence. The visiting artists spent time at UD teaching dance students pieces of choreography.
Dance students have been practicing the pieces they worked on with Laurie Taylor, founder and CEO of Soul Movement Productions, and Trudy Cobb-Dennard, a renowned dancer from Towson University, for several months. 
Not all the works to be featured at the concert were choreographed by faculty. Michael Rowley, a senior exercise science major, was selected among student applicants to create an original piece. 
Tickets are $10 for adults and $5 for students. Tickets can be purchased in advance by emailing delawaredanceminor@gmail.com. Tickets will be waiting for pickup and payment at will call the evening of the performance. 
About the dance minor
The University of Delaware dance minor began in fall 2009. To date, more than 65 students have formally matriculated as dance minor students. Several other undergraduate students have participated in dance courses that are available to the general student body. 
Article by Kelley Bregenzer
Photo by Dan Dunlap