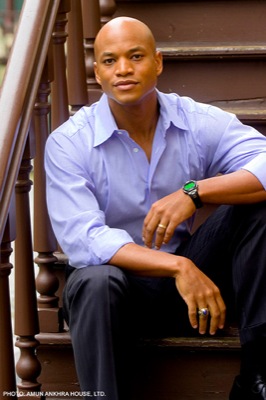 Feb. 20: The importance of choices
Author, youth advocate Wes Moore to speak in Mitchell Hall
1:13 p.m., Feb. 6, 2013--Best-selling author and youth advocate Wes Moore will discuss personal responsibility and the importance of being accountable for personal choices in a talk scheduled at 7 p.m., Wednesday, Feb. 20, in Mitchell Hall on the University of Delaware's Newark campus. 
Sponsored by the Honors Program with support from the Center for Black Culture and the President's Diversity Initiative, the program is free and open to the public. 
June 5: Blue Hen 5K
University of Delaware graduates planning to attend Alumni Weekend are encouraged to register for the annual Blue Hen 5K walk and run, which will be held Sunday morning, June 5.
June 6-9: Food and culture series
The 20th annual June Lecture Series at the Osher Lifelong Learning Institute at UD in Wilmington will be held June 6-9. Titled 'June a la Carte,' this year's program focuses on great political documents, feminism, world politics and a Newark cuisine sampler.
After the talk, Moore will sign copies of his book at a reception in the rotunda of Gore Hall. 
In conjunction with Moore's visit to campus, the Honors Program is sponsoring a Day of Service on Saturday March 9.  Student volunteers will work with the Delaware Adolescent Programs Inc. (DAPi), Literacy Volunteers Serving Adults (LVSA), Ronald McDonald House and the West End Neighborhood House to provide necessary services to the community. An online volunteer registration form will go live on Feb. 20. For more details, email Sarah Georger at sgeorger@udel.edu.
During the Moore's visit and on the Day of Service, UD Social Media Ambassadors will be sharing the experience by live-tweeting at those events, using the hashtag #helpDE. 
About Wes Moore
An Army officer, Rhodes Scholar, White House fellow, author, youth advocate and business leader, Moore was drawn to trouble as child, growing up in a single-parent household in Baltimore. His mother enrolled him in a Pennsylvania military school and that decision changed the course of his life. 
In his best-selling book The Other Wes Moore, he tells the story of a man who shared his name and much of his personal history. This man had a starkly different fate, now serving a life sentence without parole on murder charges. Moore wrote his book in an effort to discover how small choices make big differences in life 
A young adult version of his book, Discovering Wes Moore, was published in 2012, and movie rights to The Other Wes Moore have been optioned by Oprah Winfrey and HBO Films. 
Speaking around the country, Moore talks about the importance of support systems—networks of families, mentors, teachers, friends and colleagues—in shaping lives, and he stresses the importance of leadership in every community. 
Moore graduated Phi Theta Kappa as a commissioned officer from Valley Forge Military College in 1998 and Phi Beta Kappa from Johns Hopkins University in 2001 with a bachelor's degree in international relations. At Johns Hopkins, he was honored by the Maryland College Football Hall of Fame. He completed a master's degree in international relations from Oxford University as a Rhodes Scholar in 2004.
A paratrooper and captain in the U.S. Army, he served a combat tour of duty in Afghanistan with the elite First Brigade of the 82nd Airborne Division in 2005-06. He spearheaded the American strategic support plan for the Afghan Reconciliation Program that unites former insurgents with the new Afghan Government.
A White House Fellow from 2006-07, Moore served as a special assistant to Secretary of State Condoleezza Rice. After his time at the White House, he became an investment professional in New York at Citigroup, focusing on global technology, where he left as a vice president. In 2009, he was selected as an Asia Society Fellow and was named one of Crain's New York Business' 40 Under 40 Rising Stars.
He has been featured in media outlets throughout the country, including National Public Radio, The Oprah Winfrey Show, Charlie Rose, Meet the Press, The View and The New York Times. 
To learn more abut Moore, follow him on Facebook and on Twitter at wesmoore1.