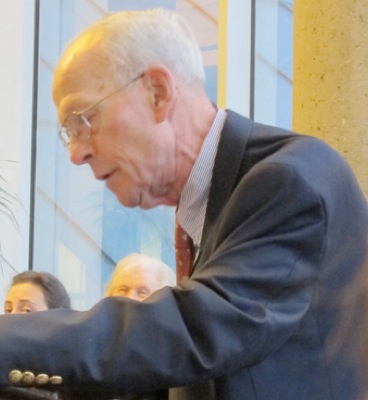 Mell honored
University's Mell honored at conference on 18th-century studies
7:58 a.m., Dec. 13, 2012--Donald C. Mell, professor of English and chair of the board of editors of the University of Delaware Press, was honored at the East-Central American Society for 18th Century Studies Conference on Nov. 1-2 in Baltimore.
Mell, who was a founding member of the society, was recognized for his many contributions to 18th century studies and scholarly work at the conference.
National Medal of Science
President Barack Obama recently presented the National Medal of Science to University of Delaware alumnus Rakesh Jain.
Warren Award
Rosalind Johnson, assistant dean for student success in the NUCLEUS Program in UD's College of Arts and Sciences, was presented the John Warren Excellence in Leadership and Service Award during a May 26 ceremony.
Since 2003, he has chaired the board of the University of Delaware Press, which has received numerous awards under his leadership, especially for its scholarship featuring the 18th century.
Susan Brynteson, vice provost and May Morris University Librarian, represented the University at the event and made remarks about Mell.
Julia Oestreich, senior editor, also attended, representing the University of Delaware Press. The Office of the Provost also provided some support for the event.