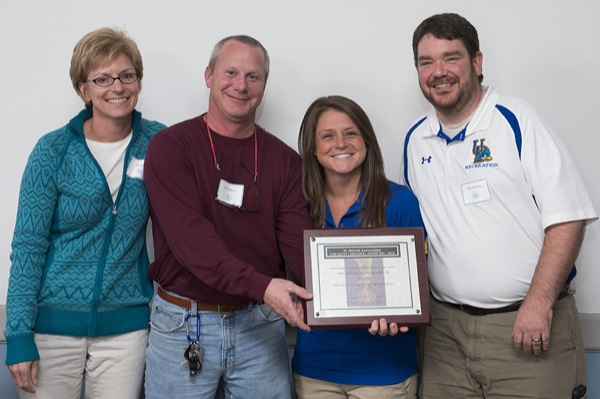 In recognition of safety
Intercollegiate Athletics and Recreation Services receives Alexander safety award
12:49 p.m., Dec. 14, 2012--The University of Delaware Division of Intercollegiate Athletics and Recreation Services (DIARS) was recognized with the Bernie Alexander Fire Safety Award at the 17th annual Safety Committee Luncheon, held Dec. 7 in the General Services Building. 
The award, which was presented for the sixth consecutive year, goes to the department or group with the most emphasis on fire prevention and safety. 
National Medal of Science
President Barack Obama recently presented the National Medal of Science to University of Delaware alumnus Rakesh Jain.
Warren Award
Rosalind Johnson, assistant dean for student success in the NUCLEUS Program in UD's College of Arts and Sciences, was presented the John Warren Excellence in Leadership and Service Award during a May 26 ceremony.
The Division of Intercollegiate Athletics and Recreation Services took the award this year for its outstanding efforts keeping event patrons and staff safe at the Bob Carpenter Center and the Carpenter Sports Building during major construction operations at both buildings. Despite the hardships of limited access, noise and construction hazards, major sports and recreational events were carried out with interruption and without compromising safety. Sue Groff, chairperson of the DIARS Safety Committee, accepted the award for the department. 
Bernie Alexander was the UD fire marshal from 1987 through 2006 and left the campus for medical reasons. After Mr. Alexander's death in 2007, his parents and wife established the annual award in his name by establishing funding for the award. A plaque in the EHS Office lists all the recipients, who also receive a framed certificate and monetary award.
The Dec. 7 program, attended by representatives from the 53 assigned UD Safety Committees, was hosted by Michael Gladle, director of the Department of Environmental Health and Safety. Also speaking at the program were Scott Douglass, executive vice president; Charles Reardon, vice provost for research; and Albert (Skip) Homiak, executive director of Campus Safety and Security. 
They spoke about the importance of the Safety Committees in the overall safety and health of researchers, students, staff and guests on the campus and the need to insure that everyone who comes to campus leaves in a safe manner. The importance of the Safety Committees' role with lab and facility inspections and other safety matters also was recognized as key to keeping the University safe.  
Gladle concluded the program by thanking all those attending and wishing everyone a safe winter holiday season.  
Photo by Kathy F. Atkinson