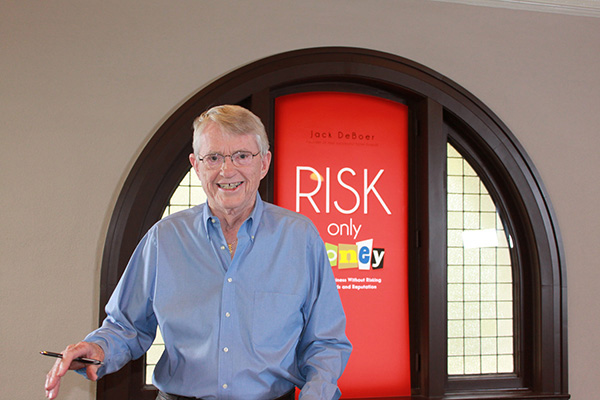 Aug.30-Nov. 15: Wise lecture series
HRIM announces speakers in Paul E. Wise Executive in Residence Series
7:47 a.m., Aug. 30, 2012--The Department of Hotel, Restaurant and Institutional Management (HRIM) in the Alfred Lerner College of Business and Economics has announced the annual Paul E. Wise Executive in Residence speaker series, which will begin at 2 p.m. Thursday, Aug. 30, in 007 Willard Hall Education Building on the University of Delaware campus in Newark. 
The lectures are free and open to the public. Professional business attire is required.
June 5: Blue Hen 5K
University of Delaware graduates planning to attend Alumni Weekend are encouraged to register for the annual Blue Hen 5K walk and run, which will be held Sunday morning, June 5.
June 6-9: Food and culture series
The 20th annual June Lecture Series at the Osher Lifelong Learning Institute at UD in Wilmington will be held June 6-9. Titled 'June a la Carte,' this year's program focuses on great political documents, feminism, world politics and a Newark cuisine sampler.
The opening speaker will be Linda Parkowski, director of Delaware Tourism, who will discuss her business ventures and 20 years of experience in the Delaware tourism industry.
On Sept. 6, Jack DeBoer, business entrepreneur and author of Risk Only Money, will continue the series at 3:30 p.m.
As the founder of four successful hotel brands, which include Residence Inn, Summerfield Suites, Candlewood Suites and Value Place, DeBoer is recognized as the pioneer of the extended-stay and all-suite hotel concepts. 
DeBoer has led a life of significance through involvement with business and civic organizations from Youth for Understanding, the world's leading student exchange organization, to World Vision, one of the world's largest humanitarian organizations.
Remaining lectures in the series to continue throughout the semester include:
Sept. 13, 2 p.m. -- Patricia Talorico, deputy features editor and restaurant critic and food writer for the News Journal. Talorico, who writes a blog called Second Helpings, has twice been nominated for James Beard Foundation journalism awards for feature writing.
Sept. 20, 3:30 p.m. -- David Miles is the chairman and CEO of Miles LeHane Companies, Inc., a strategic management and career consulting firm. Miles' ultimate goal is to form a company that inspires strategic transitions. Using life experiences, Miles shares his rules for success in his book, The Four Pillars of Employable Talent.
Sept. 27, 2 p.m.-- Bobby Pancake, owner of Buffalo Wild Wings in Maryland and Delaware, spent over 28 years in the restaurant industry. After being awarded the U.S. Small Business Administrator's National Entrepreneurial Success Award in 2010, Pancake was invited to Washington where he met President Barack Obama and discussed the state of restaurants and other small businesses.
Oct. 4, 2 p.m. -- Sam Calagione is the founder of Dogfish Head Brewery, one of the fastest growing breweries in the country. The small commercial brewery is focused on brewing stronger, more exotic beers, upholding the motto "Off-centered ales for off-centered people."
Oct. 11, 2 p.m. -- Brendan Flanagan, vice president of government affairs for the National Restaurant Association (NRA), supports policy on health care, starting wage, union organization and paid leave. Prior to joining the NRA, Flanagan was a lobbyist with the International Franchise Association representing national and international retail chain businesses before Congress.
Oct. 18, 3:30 p.m. -- John Dawkins is president and chief executive officer of Jo-Dan Enterprises, which owns and operates nine McDonald's family restaurants in north central Philadelphia and the Avenue of the Arts area of the city. Dawkins pursued his entrepreneurial dream and purchased his first McDonald's Family Restaurant on Route 202 in King of Prussia.
Oct. 25, 3:30 p.m. -- Jessica Baran, vice president of resort sales at Foxwoods Resort Casino, is an experienced resort sales manager who coordinates meeting spaces, oversees budgeting and develops tour packages for VIP guests. Baran earned a bachelor of science degree in HRIM with a minor in marketing from the University of Delaware.
Nov. 1, 2 p.m. -- Xavier Teixido, president of Harry's Hospitality Group, began his restaurant career as a cook with the Harry M Stevens Company at the Brandywine Racetrack in Wilmington, Del. Teixido currently serves at the vice chairman of the National Restaurant Association Educational Foundation and is a member of the UD HRIM Advisory Board.
Nov. 15, 3:30 p.m. -- John Timmerman is the vice president of Global Guest Experience and Rooms Operations for Marriott International, Inc. Timmerman is the current chair-elect for the American Society for Quality (ASQ) and received the ASQ Ishikawa Medal for his contributions to the human aspects of quality.
The series, named in honor of HRIM founder Paul Wise, was established by the department in 2006-07 to bring prominent industry professionals and executives to campus and to inspire HRIM students early in their careers. 
Also in Wise's honor, the Paul Wise Executive-Residence fund was established when he retired from UD in 2000. The fund sponsors an on-campus program consisting of lectures, workshops, consultations and advisement sessions with HRIM faculty and staff, and is spearheaded by a recognized leader who personifies current best practices in hospitality management.
Additional information on the series, including speaker biographies, is available on the HRIM website.
Article by Rachel Howard