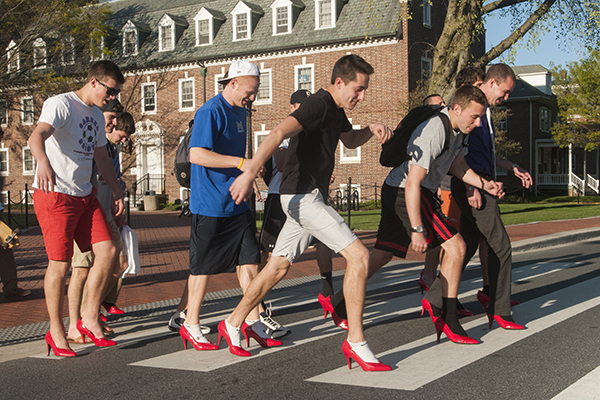 April 4: Walk a Mile
UD announces fifth annual Walk a Mile in Her Shoes march
12:01 p.m., April 1, 2013--The University of Delaware Inter-Fraternity Council will hold the fifth annual Walk a Mile in Her Shoes march on Thursday, April 4, as part of Sexual Assault Awareness Month.
At 6:30 p.m. around the central Green, members of the campus community should be on the lookout for UD's male students, professors and staff marching in four-inch red stiletto heels.
June 5: Blue Hen 5K
University of Delaware graduates planning to attend Alumni Weekend are encouraged to register for the annual Blue Hen 5K walk and run, which will be held Sunday morning, June 5.
June 6-9: Food and culture series
The 20th annual June Lecture Series at the Osher Lifelong Learning Institute at UD in Wilmington will be held June 6-9. Titled 'June a la Carte,' this year's program focuses on great political documents, feminism, world politics and a Newark cuisine sampler.
A representative of the event said, "This will be a fun opportunity for men to educate and inspire the campus community to take action in the prevention of sexual violence, and learn about resources for victims on campus like Sexual Offense Support (S.O.S.)."
Any men on campus who are interested in marching should arrive at the Multipurpose Rooms of the Trabant University Center by 5 p.m. to grab a pair of heels and for the opening remarks at 5:30 p.m.
During and after the march, the Inter-Fraternity Council and the Sexual Assault Prevention and Education Committee invite the community to use Twitter to tweet with the hashtags #Recognize, #intervene or #Support.
All Sexual Assault Awareness Month programs will feature the theme of "Use Your Power" to be an "active bystander" against sexual violence.
By tapping into social media platforms such as Twitter, UD officials said they believe the campus community will encourage everyone to be an "active bystander" against sexual violence.
Anyone with questions can contact Brendan Edmonds of the Inter Fraternity Council at bedmonds@udel.edu.
Photo by Duane Perry