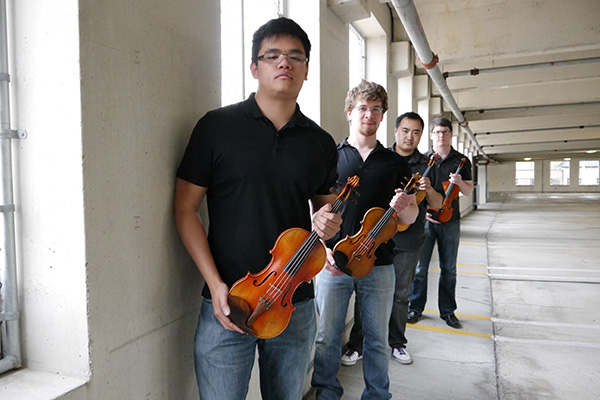 May 2: 'Evolution' concert
Violins4ward to present 'Evolution: Musical Symbiosis' concert at Roselle Center
11 a.m., April 29, 2013--Violins4ward, founded by four University of Delaware graduate violin students, will present a concert "Evolution: Musical Symbiosis" at 5:30 p.m., Thursday, May 2, in the Gore Recital Hall of the Roselle Center for the Arts.
The members of Violins4ward -- Justin Chou, David Brown, Andrew Gentzsch and Duo Shen, who were the creative minds and musicians of the 2013 UD Graduate Music Student Gala "Bridges to Harmony" – have prepared an innovative musical-visual concert experience that will branch out from the realm of classical music into the world of cinema and video games.
June 5: Blue Hen 5K
University of Delaware graduates planning to attend Alumni Weekend are encouraged to register for the annual Blue Hen 5K walk and run, which will be held Sunday morning, June 5.
June 6-9: Food and culture series
The 20th annual June Lecture Series at the Osher Lifelong Learning Institute at UD in Wilmington will be held June 6-9. Titled 'June a la Carte,' this year's program focuses on great political documents, feminism, world politics and a Newark cuisine sampler.
Co-sponsored by the University's Master Players Concert Series (MPCS) as a special student outreach concert, and produced by Violins4ward under the guidance of renowned UD faculty violinist and MPCS artistic director Xiang Gao, the concert will chronicle the progress of music from its aural roots through a symbiotic journey with visual images, the cinema, and the new artistic medium of video games.
The concert also will serve as an experimental project to prepare other MPCS educational concerts in the coming seasons. 
Violins4ward will be joined this concert by UD faculty member and renowned pianist Julie Nishimura, along with guest musicians from the Department of Music. Together, these musicians will perform classics from Piazzolla, new music written by members of Violins4ward, the cinematic music of Lolita, Schindler's List, Amelie, and the soundtracks of classic games like Super Mario and new blockbusters like Skyrim: The Elder Scrolls. 
The concert is free and open to the public.
For more information about Violins4ward, visit the website.