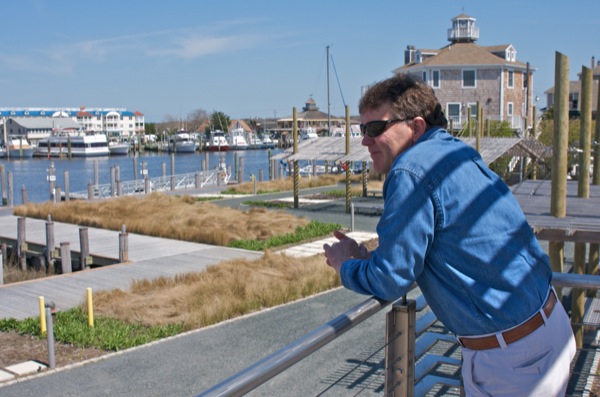 April 18-19: Sustainability conference
Event to explore natural and built environments, health aspects of sustainability
2:50 p.m., April 9, 2013--When it comes to healthy, sustainable communities, Lewes architect John Mateyko sees the key in the way we build. Cities designed for pedestrians instead of cars, active residents breathing cleaner air, energy-efficient houses that keep heat inside in the winter and out during the summer. 
"This is really all connected," Mateyko said. 
June 5: Blue Hen 5K
University of Delaware graduates planning to attend Alumni Weekend are encouraged to register for the annual Blue Hen 5K walk and run, which will be held Sunday morning, June 5.
June 6-9: Food and culture series
The 20th annual June Lecture Series at the Osher Lifelong Learning Institute at UD in Wilmington will be held June 6-9. Titled 'June a la Carte,' this year's program focuses on great political documents, feminism, world politics and a Newark cuisine sampler.
Mateyko is assisting the University of Delaware's Center for Science, Ethics and Public Policy (SEPP) and the Delaware Sea Grant College Program in hosting a sustainability conference on April 18 in Lewes and April 19 in Newark.
The two-day event, "Convergent Sustainability: A Common Path to Low-Carbon, High Quality, Sustainable Living in Our Changing Climate," brings together design/construction, environmental, health and policy experts to discuss various perspectives on sustainability.
Architects, for example, tend to focus on green building practices like renewable materials and roofs that reflect heat, while environmentalists may key in on climate change and our adaptation to it and health professionals encourage bike riding and walking for fitness.
"This is medical science, climate science and environmental science — and ethics," Mateyko said. "What ought we be doing?"
The conference includes speakers, panels and audience participation to foster dialogue. Featured participants include:
Collin O'Mara, Delaware Department of Natural Resources and Environmental Control
Constance Holland, Delaware Office of State Planning Coordination 
William Coulbourne, FEMA mitigation policy adviser
Karyl Rattay, Delaware Division of Public Health
Jennifer Adkins, Partnership for the Delaware Estuary
Bruce Coldham, Coldham and Hartman Architects
Jose Almanana, Andropogen Associates
Neelam Patel, Delaware Department of Natural Resources and Environmental Control 
The Delaware Sea Grant College Program's Marine Advisory Service (MAS), which is based in Lewes, addresses various coastal issues such as sustainable development, population growth, watershed management and open space protection. MAS Director Jim Falk said what is unusual about this conference, as opposed to others that Sea Grant has been involved with, is the broad scope.
"This is the first time that it's been multifaceted," Falk said.
In addition to practical issues for today's residents, conference attendees will also think ahead to what residents' needs will be decades from now. For example, consuming fewer fossil fuels today to leave behind a cleaner environment while also integrating sustainable economic opportunities, like wind and solar power.
"The solution to our problems can't be one-sided," said Center for SEPP Director Tom Powers. "We need to adapt our consumption and our technologies to provide for current and future generations."
Visit this site for event details and advance registration information.
The event is sponsored by the University of Delaware, UD's Center for Science, Ethics and Public Policy, Delaware Sea Grant and the Northeast Sustainable Energy Association. Partnering organizations include the Delaware Center for the Inland Bays and the Cape Gazette.
About the Delaware Sea Grant College Program
The University of Delaware was designated as the nation's ninth Sea Grant College in 1976 to promote the wise use, conservation and management of marine and coastal resources through high-quality research, education and outreach activities that benefit the public and the environment. UD's College of Earth, Ocean, and Environment administers the program, which conducts research in priority areas ranging from coastal hazards to seafood safety.
Article by Teresa Messmore
Photo by Lisa Tossey