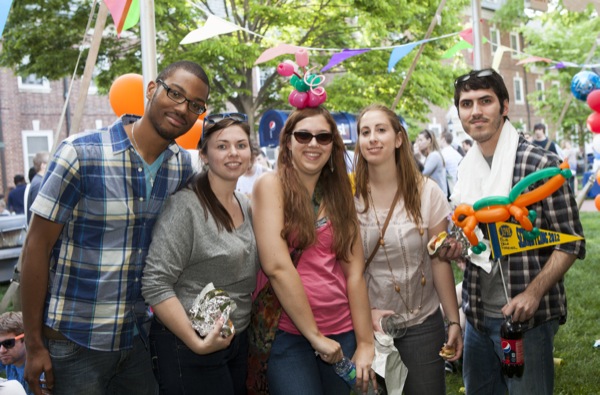 May 10: Senior Fling
SCPAB to present annual Senior Fling featuring band Timeflies
8:52 a.m., April 30, 2013--The University of Delaware Student Centers Programming Advisory Board (SCPAB) and the University Student Centers will present the annual Senior Fling event from 4-7 p.m., Friday, May 10, on the North Green.
This year's Senior Fling consists of inflatables, novelties, food and a concert featuring the band Timeflies.
June 5: Blue Hen 5K
University of Delaware graduates planning to attend Alumni Weekend are encouraged to register for the annual Blue Hen 5K walk and run, which will be held Sunday morning, June 5.
June 6-9: Food and culture series
The 20th annual June Lecture Series at the Osher Lifelong Learning Institute at UD in Wilmington will be held June 6-9. Titled 'June a la Carte,' this year's program focuses on great political documents, feminism, world politics and a Newark cuisine sampler.
Spring Fling is free and open to all UD students.
This event is aimed toward UD seniors, and they are encouraged to register for a variety of prizes. Winners will be announced throughout the evening and seniors must be present to accept their prizes. Seniors can register to win by joining the alumni community at this website.
The concert will be held underneath a tent on the North Green, and students will be allowed inside at 4 p.m. The concert will be running from approximately 5-7 p.m. 
The rain location is the Trabant University Center's Multipurpose Room.
Timeflies started out as a group in 2010, and has quickly grown in popularity in the past few years. With Cal Shapiro's combination of singing and freestyling mixed with Rob (Rez) Resnick's original beats, Timeflies has a unique sound and an upbeat show. They are most recently known for their Timeflies Tuesday weekly specials on YouTube and their latest EP, One Night, which was released in November 2012.
For more information, see the SCPAB website.
Photo by Ambre Alexander