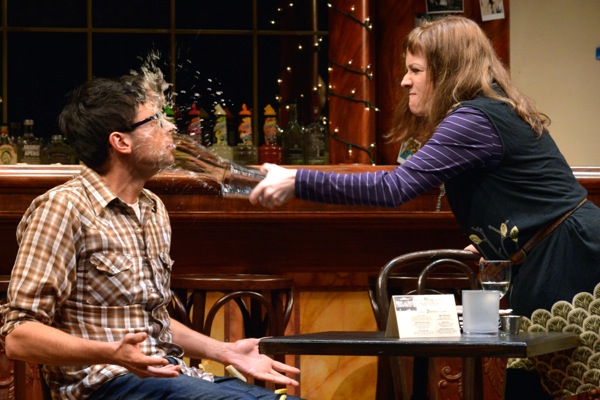 April 20-May 4: REP sets 'Fever'
UD Resident Ensemble Players to stage Rebeck's 'Fever'
1:18 p.m., April 16, 2013--If men are from Mars and women are from Venus, the planets collide head-on in Fever, a wicked new comedy by Theresa Rebeck, creator of the NBC drama Smash and writer of Broadway's Seminar and the University of Delaware Resident Ensemble Players' (REP) 2011 sold-out hit, O Beautiful.
Written especially for the REP professional acting company, Fever plays April 20-May 4 at the University's Roselle Center for the Arts. Tickets are $21-$27, with discounts available, and can be purchased by calling 302-831-2204 or online at the REP website.
June 5: Blue Hen 5K
University of Delaware graduates planning to attend Alumni Weekend are encouraged to register for the annual Blue Hen 5K walk and run, which will be held Sunday morning, June 5.
June 6-9: Food and culture series
The 20th annual June Lecture Series at the Osher Lifelong Learning Institute at UD in Wilmington will be held June 6-9. Titled 'June a la Carte,' this year's program focuses on great political documents, feminism, world politics and a Newark cuisine sampler.
Fever is set in Nick and Laila's historic tavern, where nothing is off limits when the regulars tussle over life's big questions: male versus female, beer verses wine, possessions versus people, zombies versus the plague.
But when Nick considers selling off the bar piece by valuable piece, the sparks – and drinks and French fries – really start to fly. As it becomes apparent that this "home away from home" may soon disappear, the inhabitants must examine their own perceptions and decide what it is they truly value.
"Fever explores the values that we associate with men and women — the value of people over things, literal history over emotional history. We are surrounded by our history, and the play suggests that we need both the male and female perceptions," says Sanford Robbins, REP producing artistic director who also directs the production. "And the play does so with Rebeck's trademark humor. She has a gift for writing terrific comedy and writes about important, poignant topics, but in a way that makes us laugh, thereby making the issues very accessible."
Rebeck's first project with the REP was 2011's groundbreaking O Beautiful, and Fever takes advantage of her knowledge of and relationship with the company. "The company all have enormous respect for her," Robbins says, "and we're honored to have one of the country's outstanding writers create something specifically for this group of actors."
Performances run from Saturday, April 20, through Saturday, May 4, with preview performances on Thursday, April 18, and Friday, April 19.
Tickets can be purchased online, by calling the REP box office at 302-831-2204 or in person at the Roselle Center for the Arts, 110 Orchard Rd., Newark, Monday through Friday from noon until 5 p.m.
The performance schedule for Fever is as follows: April 18, 19, 20, 25, 26, and 27 and May 1, 2, and 3 at 7:30 p.m.; April 21, 27, and 28 and May 4 at 2 p.m.
Prior to the 2 p.m. performance on Saturday, April 27, will be the REP Prologue, a free and informal 20-minute presentation about the production designed to enhance patrons' enjoyment and understanding of what they are about to experience.
A talk-back with the cast will take place following the evening performance on Thursday, April 25.
The Roselle Center for the Arts is located at 110 Orchard Road, on the corner of Orchard Road and Kent Way, in Newark, Del. A convenient parking garage is adjacent to the center.
A complete schedule, directions, and information on purchasing tickets can be found at the REP's website by calling the REP's box office at 302-831-2204.
About Theresa Rebeck
Theresa Rebeck is a widely produced playwright throughout the United States and abroad. New York productions of her work include Dead Accounts at the Music Box Theatre; Seminar at the Golden Theatre; Mauritius at the Biltmore Theatre in a Manhattan Theater Club Production; The Scene, The Water's Edge, Loose Knit, The Family of Mann and Spike Heels at Second Stage; Bad Dates, The Butterfly Collection and Our House at Playwrights Horizons; The Understudy at the Laura Pels Theater in a Roundabout Theatre Company production; and View of the Dome at New York Theatre Workshop. 
Omnium Gatherum (co-written, finalist for the Pulitzer Prize in 2003) was featured at the Humana Festival, and had a commercial run at the Variety Arts Theatre.
In 2011, her work Poor Behavior premiered at the Mark Taper Forum in Los Angeles, and she wrote O Beautiful for the Resident Ensemble Players at the University of Delaware, which played in April and May of that year.
All of Rebeck's past produced plays are published by Smith and Kraus as Theresa Rebeck: Complete Plays, Volumes I, II III, and IV and in acting editions available from Samuel French or Playscripts. 
Rebeck's other publications are Free Fire Zone, a book of comedic essays about writing and show business. She has written for American Theatre Magazine and has had excerpts of her plays published in the Harvard Review. 
Rebeck's first novel, Three Girls and Their Brother, was published by Random House/Shaye Areheart Books in April 2008. Her second novel, Twelve Rooms With A View, was published by Random House/Shaye Areheart Books in May of 2010. Both novels are available online and at booksellers everywhere.
In television, Rebeck has written for Dream On, Brooklyn Bridge, L.A. Law, American Dreamer, Maximum Bob, First Wave, and Third Watch. She was the creator of the NBC drama Smash and has been a writer/producer for Canterbury's Law, Smith, Law and Order: Criminal Intent and NYPD Blue.
Her produced feature films include Harriet the Spy, Gossip, and the independent features Sunday on the Rocks and Seducing Charlie Barker, an adaptation of her play, The Scene. Awards include the Mystery Writers of America's Edgar Award, the Writer's Guild of America award for Episodic Drama, the Hispanic Images Imagen Award, and the Peabody, all for her work on NYPD Blue.
She has won the National Theatre Conference Award (for The Family of Mann), and was awarded the William Inge New Voices Playwriting Award in 2003 for The Bells. Mauritius was originally produced at Boston's Huntington Theatre, where it received the 2007 IRNE Award for Best New Play as well as the Eliot Norton Award. Other awards include the PEN/Laura Pels Foundation Award, the Athena Film Festival Award, an Alex Award, a Lilly Award and in 2011 she was named one of the 150 Fearless Women in the World by Newsweek.
Rebeck is originally from Cincinnati and holds a master of fine arts degree in playwriting and a doctorate in Victorian melodrama, both from Brandeis University. She is a proud board member of the Dramatists Guild, a contributing editor to the Harvard Review, an associate artist of the Roundabout Theatre Company and has taught at Brandeis and Columbia University. She lives in Brooklyn with her husband and two children.
About the REP
Formed in 2008, the University of Delaware Resident Ensemble Players (REP) is Delaware's only professional resident acting company, and one of the few in the country. 
Initially formed as the professional component of the acclaimed Professional Theatre Training Program, UD's graduate theatre program, to provide mentoring support and performance opportunities to current graduate students, the REP has evolved into one of the most reputable theatre companies in the region, presenting new productions of classic and modern works, as well as contemporary plays and a world premiere.
With its roots in one of the country's most respected MFA conservatory programs, the REP is comprised of a group of experienced actors (all members of Actors Equity) and technical theatre professionals, many of whom are program graduates themselves.
The REP is regularly joined by guest designers and directors from around the country, including Mark Lamos, Eugene Lee, Ethan McSweeney, Adrian Hall, Ed Stern, Laura Crow, Takeshi Kata, and Joseph Hanreddy, as well as internationally acclaimed theatre artists like Tadashi Suzuki, Oleg Tabokov, and Heinz-Uwe Haus.
Producing artistic director Sanford Robbins has extensive credits and awards as a director at major theatres in America and abroad.
The REP provides tri-state audiences with the opportunity to see productions by some of America's best theatre artists at exceptionally low ticket prices, making live theatre accessible to the entire community. Each REP production features a "Prologue," a lecture from a prominent scholar about the production, as well as a post-performance question and answer session with cast members. These events help to build future theatre audiences and demonstrate the unique possibilities and value of resident acting companies.
Photo by Nadine Howatt