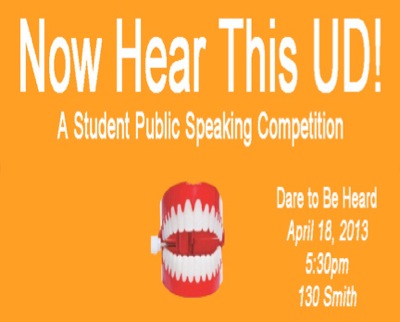 April 18: Public speaking contest
Students compete for prizes in 'Now Hear This' public speaking contest
9:16 a.m., April 15, 2013--A new public speaking contest at the University of Delaware, "Now Hear This UD!" features student speeches on important civic issues and current efforts toward change, with the speakers competing for prizes and trophies.
The event will be held from 5:30-7 p.m., Thursday, April 18, in 130 Smith Hall.
June 5: Blue Hen 5K
University of Delaware graduates planning to attend Alumni Weekend are encouraged to register for the annual Blue Hen 5K walk and run, which will be held Sunday morning, June 5.
June 6-9: Food and culture series
The 20th annual June Lecture Series at the Osher Lifelong Learning Institute at UD in Wilmington will be held June 6-9. Titled 'June a la Carte,' this year's program focuses on great political documents, feminism, world politics and a Newark cuisine sampler.
The Department of Communication and the Center for Political Communication, with support from Pearson Publishing, started the speaking contest to showcase student speakers focused on civic engagement.
The contest is the result of nearly three years of planning and the focused efforts this semester of a small group of students.
Tracey Holden, assistant professor of communication, began planning for the contest three years ago, and launched it this year with her class of strategic communication students. "We created a group, 'Dare to Be Heard,' based on the belief that words can change the world," Holden said. "Our contest offers a place for student speakers to be heard beyond the classroom."
The students in Holden's class have applied their communication skills to locate participants, attract supporters, generate publicity and coordinate all the event logistics, including UDairy Creamery ice cream to kick off the contest.  Their communications efforts include creating the event's Now Hear This UD!  Facebook page and Twitter feed, @NowHearThisUD.
More than 50 students signed up for the competition, and preliminary rounds narrowed the field to seven finalists and two alternates. The finalists include Jessica Applebaum, Alexander Cornier, Anthony Calabrese,  John DiStefano, Mark DiStefano, Jessica Franzetti and Jocelyn Moore. Alternates are Will Kashdan and Morgan Thomas.
The student speakers have been honing their presentations with the help of the Oral Communication Fellows, who offer coaching to all students on campus for presentations. Each speaker will have 5-7 minutes to address the audience, on topics ranging from mental health to food insecurity.
The speeches will be evaluated by a panel of expert and celebrity judges. This year's judges are Miss Delaware Alyssa Murray, a UD student who recently competed in the Miss America contest; Katie Wilson, communications director for U.S. Sen.Tom Carper; Christy Gleason, senior policy adviser for U.S. Sen. Chris Coons; Dante LaPenta, a UD master's degree alumnus and  account director at AB+C Public Relations; and Lyman Chen, owner of Berri Yummi Yogurt and professional actor.
Prizes include cash and trophies for the top three speakers, and an "audience favorite" award, which will presented at the close of the competition on Thursday.
"Our students are amazing speakers," Holden said. "Now Hear This UD! gives them a place to share their great ideas, and rewards their efforts to make a difference."