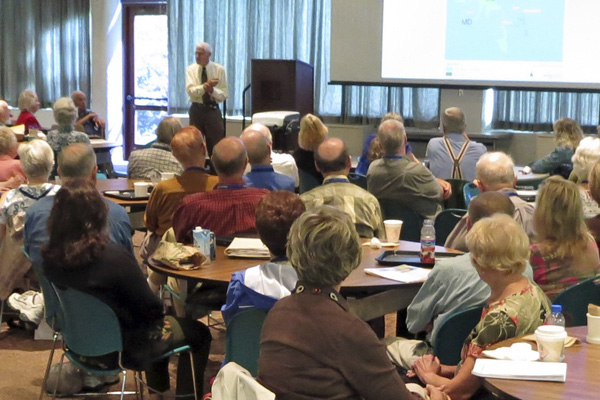 June 10-14: Osher lecture series
Osher Lifelong Learning Institute announces June lecture series
8:41 a.m., April 26, 2013--The 17th annual June Lecture Series at the Osher Lifelong Learning Institute at the University of Delaware in Wilmington will be held from June 10-14.
The educational and fun program, open to all adults 18 and older, includes two different presentations from 8:45 a.m.-12:30 p.m. each morning for five consecutive days, including topics with local emphasis, contemporary subjects and great music.
June 5: Blue Hen 5K
University of Delaware graduates planning to attend Alumni Weekend are encouraged to register for the annual Blue Hen 5K walk and run, which will be held Sunday morning, June 5.
June 6-9: Food and culture series
The 20th annual June Lecture Series at the Osher Lifelong Learning Institute at UD in Wilmington will be held June 6-9. Titled 'June a la Carte,' this year's program focuses on great political documents, feminism, world politics and a Newark cuisine sampler.
A social will be held each of the five mornings with coffee, tea and light refreshments, and will be followed by two one-hour presentations by fascinating people from the area.
The program includes:
Monday, June 10
Russell McCabe, Delaware Heritage Commission, "The Delaware History Trail."
Harvey Price, assistant professor of music, and the UD Steel Drum Band, "Tropical Reflections."
Tuesday, June 11
Nikki Mowbray, director, Stewards of Children YMCA of Delaware, "Prevent Now: An Introduction to Preventing Child Sexual Abuse."
Willo Carey, director of Development WHYY, "WHYY and the Power of Public Media."
Wednesday, June 12
Capt. Jim Roche, Delaware River and Bay Pilots Association, "Safe and Efficient Commerce on the Delaware River: The Demands on the Modern Day Ship Pilot."
Peter Lesher, curator, Chesapeake Bay Maritime Museum, "Extreme Sailing: Chesapeake Bay Log Canoes."
Thursday, June 13
Robert M. Peck, senior fellow, Academy of Natural Sciences, Drexel University, "A Glorious Enterprise: The History of U.S. Natural Science."
Debbie Martin, Underground Railroad Coalition of Delaware and Harriet Tubman Byway, "Celebrating Harriet Tubman 100 Years After Her Death."
Friday, June 14
Kathleen MacRae, executive director, ACLU of Delaware, "The Latest on Civil Unions and Same Sex Marriage in Delaware and in the U.S."
Fruits of the Spirit Choir, Christina Cultural Arts Center, "Like a Tree Planted by the Water."
Last summer's participants offered positive comments about the series. "Once again you demonstrated exceptional quality. Those who didn't attend missed a wonderful week," one attendee said, and another added, "A friend suggested several of us get together and attend the lecture series. A great venue for mini-reunion with content."
One said, "I registered three out-of-town friends, and we had terrific week," and another said, "I was pleasantly surprised at the quality of the presentations."
The entire five-morning June series costs a modest $50. Those who are interested should register soon since space is limited.
To register or for more information, call 302-573-4415, visit the website or stop in Room 115, Arsht Hall, 2700 Pennsylvania Ave, Wilmington.
About Osher
The Osher Lifelong Learning Institutes at the University of Delaware are membership organizations that provide opportunities for adults 50 and over to learn, teach, and travel with their peers.
There are no academic requirements for admission. The only requirements are your interest in a continuing educational experience, support of the programs through participation, and the modest membership fee.
UD's Osher Lifelong Learning Institutes are located in Wilmington, Dover, and Lewes. More information on all locations is available at the website.
Photo by Tim Bayard