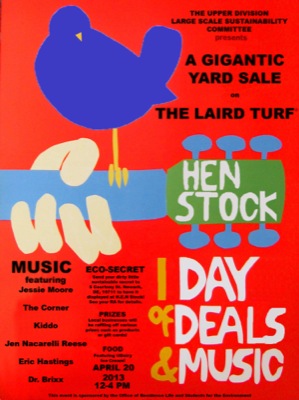 April 20: H.E.N.stock yard sale, concert
Residence Life encourages students to reuse, repurpose, rock out
9:32 a.m., April 17, 2013--The University of Delaware Office of Residence Life and Students for the Environment will hold the second annual H.E.N.stock yard sale and concert from noon-4 p.m., Saturday, April 20, on the Laird Campus turf.
H.E.N.stock encourages participants to be more environmentally sustainable by asking them to think about donating unwanted items to the sale, and purchasing reusable items instead of buying new in order to decrease consumption and increase awareness about responsible purchasing.
June 5: Blue Hen 5K
University of Delaware graduates planning to attend Alumni Weekend are encouraged to register for the annual Blue Hen 5K walk and run, which will be held Sunday morning, June 5.
June 6-9: Food and culture series
The 20th annual June Lecture Series at the Osher Lifelong Learning Institute at UD in Wilmington will be held June 6-9. Titled 'June a la Carte,' this year's program focuses on great political documents, feminism, world politics and a Newark cuisine sampler.
Throughout the four-hour event, attendees can browse and purchase donated items, enter raffles and enjoy a great lineup of student performers. Also, UDairy Creamery ice cream will be available.
Students can donate items to the yard sale throughout April in the Resident Assistant Office during office hours, 7:30-9 p.m., and will receive credit for donated items. Credit can be used on the day of the yard sale to purchase items.
All proceeds from the sale will benefit Long Way Home, a non-profit organization that uses sustainable design and materials to construct self-sufficient schools that promote education, employment, and environmental stewardship in Guatemala.
For questions, contact event chairs Katie Pifer at kpifer@udel.edu or Cheri Skipworth at cskipwor@udel.edu.
The event is part of UD's Earth Week 2013 activities.