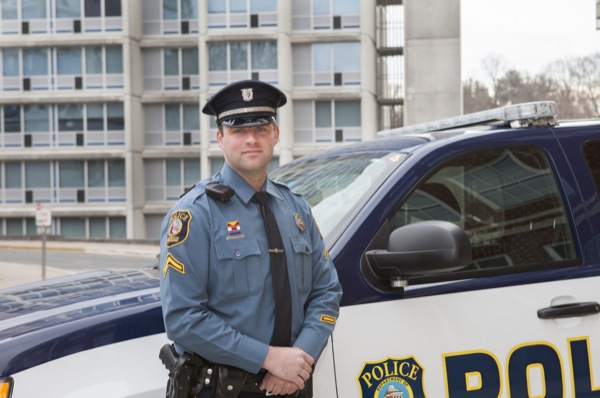 County citation
University police officer honored for emergency response actions
8:38 a.m., April 16, 2013--Ryan Welsh, a master police officer in the University of Delaware Police Department, was honored recently for administering CPR to a UD student who suffered sudden cardiac arrest at the start of the fall semester.
A six-year department veteran, Welsh received a Pre-Hospital Sudden Cardiac Arrest Save Citation at an awards ceremony held at the New Castle County Department of Public Safety Headquarters in New Castle. 
National Medal of Science
President Barack Obama recently presented the National Medal of Science to University of Delaware alumnus Rakesh Jain.
Warren Award
Rosalind Johnson, assistant dean for student success in the NUCLEUS Program in UD's College of Arts and Sciences, was presented the John Warren Excellence in Leadership and Service Award during a May 26 ceremony.
Recognizing responders from various police and rescue departments during the ceremony were New Castle County Executive Tom Gordon and paramedics chief Lawrence Tan. 
The citation received by Welsh states: "The Emergency Medical Services Division of the New Castle County Department of Public Safety would like to commend you for your actions on Aug. 27, 2012, that contributed to the successful resuscitation and discharge of a pre-hospital sudden cardiac arrest patient."
Welsh remembered that it was a relatively uneventful night when he and his partner, master police officer Harley Angelozzi, responded to the dispatcher's request for assistance at a Laird Campus location. 
"We got a call that there was a patient in Christiana Towers who was unconscious and not breathing," Welsh said. "My partner stayed at the front entrance to let the ambulance crew in while I went up and found the patient lying on the floor with her friends, giving CPR as directed by the dispatcher."
Taking over from the students giving assistance, Welsh said he continued the CPR efforts, but there was still no pulse and the patient was not responding.
In a matter of minutes an ambulance crew from Aetna Hose, Hook and Ladder Co. of Newark arrived, followed almost immediately by the New Castle County paramedics, Welsh said. 
"The moment they came to the door, they took over and got right on top of the situation," Welsh said. "I was astounded by the job those paramedics did in bringing her back." 
After a few anxious days, Welsh got the word that the patient was doing fine and was expected to make a complete recovery.
"I was very honored receiving the award, but nothing compares with the feeling I got when I heard that she was going to be OK," Welsh said. "I met the student later on, and she thanked me for my efforts. It's moments like this that make my job so rewarding." 
Welsh said that his interest in becoming a police officer began during his time as a martial arts instructor in his native Kennett Square, Pa.
"When police officers would stop by where I was teaching and talk about their jobs, I knew it was something that I wanted to do," Welsh said. "I like the idea of being a police officer because every day is different and you never know what is going to happen." 
Article by Jerry Rhodes
Photo by Ambre Alexander