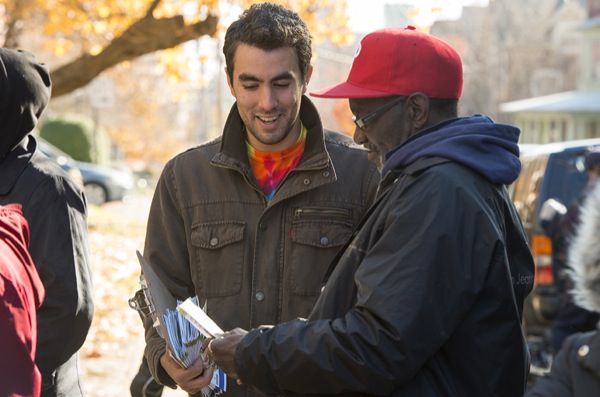 April 9:  A fair share
Lecture to address Food Bank of Delaware's Community-Supported Agriculture Program
9:08 a.m., April 3, 2013--Want to support local farmers, improve access to fresh fruits and vegetables in low-income communities and fill your table with seasonal, sustainably grown produce?
The Food Bank of Delaware's Community Supported Agriculture Program, designed by former University of Delaware Service Learning Scholars Dan Reyes and Nick Rockwell, offers the opportunity to do all three.
June 5: Blue Hen 5K
University of Delaware graduates planning to attend Alumni Weekend are encouraged to register for the annual Blue Hen 5K walk and run, which will be held Sunday morning, June 5.
June 6-9: Food and culture series
The 20th annual June Lecture Series at the Osher Lifelong Learning Institute at UD in Wilmington will be held June 6-9. Titled 'June a la Carte,' this year's program focuses on great political documents, feminism, world politics and a Newark cuisine sampler.
On Tuesday, April 9, Reyes will hold a lecture, "A Fair Share: Inclusion and Ownership in Delaware's Local Food Market," and discussion session from 11:30 a.m. to 12:30 p.m., followed by an open information session from 12:30 to 1:30 p.m., in 187 Graham Hall.
"Buying a share from the CSA program provides you with a weekly box of high-quality produce from two local farms -- Highland Orchards in Wilmington and SIW Vegetables in Chadd's Ford, Pa.," says Reyes, who is now CSA outreach associate at the Food Bank of Delaware. 
He explains that 80 percent of the cost of a share goes directly to the farmers, providing much-needed capital for seeds, labor and maintenance early in the season. The other 20 percent is a tax-deductible donation that subsidizes the cost of a share for a low-income resident of Wilmington.
Every Thursday, from June 20 to Oct. 24, shares can be picked up at the Food Bank of Delaware's Newark location (14 Garfield Way) or at the Wilmington Farmers' Market in Cool Springs Park. Shares can be purchased online. 
A full share, enough for a family of four, costs $500 ($400 share + $100 tax-deductible donation) -- a competitive price for CSAs in the region. Half-shares are also available.
By the numbers, the program will:
Provide two local farms with $24,000 each in increased income.
Bring fresh, local produce to more than 130 low-income shareholders in Wilmington.
Add $21,600 in revenue to the Wilmington Farmers' Market, as well as projected increases in the use of SNAP benefits -- formerly known as Food Stamps -- at the market.
Employ two local youth currently or formerly in the foster care system.
Reyes is a senior anthropology major in UD's Honors Program and a Plastino Scholar.  Contact him at dreyes@fbd.org for more information.
Article by Diane Kukich
Photo by Kathy F. Atkinson