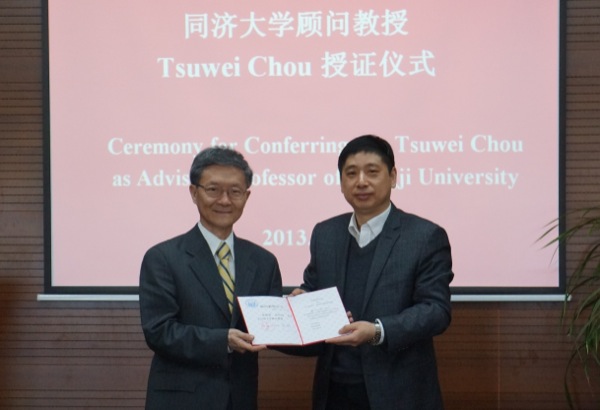 Chinese university advisory professor
UD's Chou named advisory professor at Tongji University in China
11:37 a.m., April 15, 2013--Tsu-Wei Chou, Pierre S. du Pont Chair of Engineering at the University of Delaware, has been named an advisory professor at Tongji University in Shanghai, China.
Established in 1907, Tongji University is one of the oldest and most prestigious institutions of higher education in China, with seven disciplines in engineering, science, medicine, management, arts, law and economics.
National Medal of Science
President Barack Obama recently presented the National Medal of Science to University of Delaware alumnus Rakesh Jain.
Warren Award
Rosalind Johnson, assistant dean for student success in the NUCLEUS Program in UD's College of Arts and Sciences, was presented the John Warren Excellence in Leadership and Service Award during a May 26 ceremony.
An internationally known composites expert, Chou first became involved with Tongji University in the early 1980s when he hosted a visiting professor from the university to collaborate and study the dynamic behavior and hybrid effects of fiber composites.
In recent years, he has collaborated with faculty in Tonjii's College of Materials Science and Engineering, primarily in nanomaterials. 
Chou, a highly respected researcher and faculty member in the Department of Mechanical Engineering at UD, is well known for his research on carbon nanotube-based fibers. His recent work focuses on processing such fiber composites on a macroscale while maintaining the lightweight, conductive and flexible properties of the microstructure.
He was selected a World Fellow of composites in 2011 and was named a life member of the International Conference on Composite Materials (ICCM) in 2009.
Chou was named an Honorary Research Professor at Beijing University of Aeronautics and Astronautics in 1994 and at Northwestern Polytechnical University in Xian, China in 1997.
He is the editor-in-chief of Composites Science and Technology, a highly ranked international journal, and was named among top 100 materials scientists (ranked 34th) of the past decade by Times Higher Education.
Article by Sarah E. Meadows