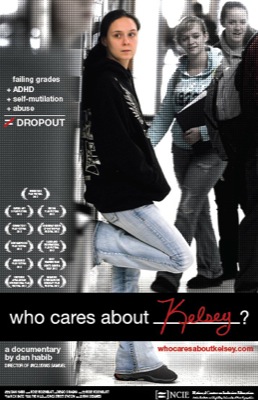 May 13: CDS Lunchtime Learning
CDS announces 'Who Cares about Kelsey?' film screening, discussion
1:56 p.m., April 22, 2013--One in 10 youths in the United States experiences a mental disorder severe enough to limit daily functioning in the family, school and community. The documentary Who Cares About Kelsey? details the lives of students with emotional/behavioral challenges and shows innovative educational approaches that help these students to succeed, while improving the overall school culture and climate.
The May 13 session in the University of Delaware Center for Disabilities Studies (CDS) Lunchtime Learning series will include the screening of selected parts of the film. Debby Boyer, director of the School Age unit at CDS and co-director of the Delaware Positive Behavior Support project, will lead a discussion about information presented in the documentary and its implications for working with students in Delaware. 
June 5: Blue Hen 5K
University of Delaware graduates planning to attend Alumni Weekend are encouraged to register for the annual Blue Hen 5K walk and run, which will be held Sunday morning, June 5.
June 6-9: Food and culture series
The 20th annual June Lecture Series at the Osher Lifelong Learning Institute at UD in Wilmington will be held June 6-9. Titled 'June a la Carte,' this year's program focuses on great political documents, feminism, world politics and a Newark cuisine sampler.
Who Cares about Kelsey? was created by Dan Habib, the filmmaker in residence at the Institute on Disability (IOD) at the University of New Hampshire. Both IOD and CDS are University Centers for Excellence in Developmental Disabilities.
The film follows Kelsey Carroll, who experiences homelessness, self-mutilation, abuse and ADHD. She was a likely high school dropout until she encountered an education revolution that's about empowering, rather than overpowering, teens with emotional and behavioral disabilities. More information about the film is available at this website.
The Lunchtime Learning session will be held from noon-1 p.m., Monday, May 13, at the Center for Disabilities Studies, 461 Wyoming Road, Newark.  It is free of charge and open to the public. Contact Katie Hoffman at khoffman@udel.edu or 302-831-3632 to register. Reply by May 7 if you need an accommodation.
Those who attend are welcome to bring a bag lunch. Water and snacks will be provided. Plan to arrive before noon so the program can start on time.
About the Center for Disabilities Studies
The Center for Disabilities Studies in the College of Education and Human Development at the University of Delaware is celebrating its 20th anniversary in 2013.
As a University Center for Excellence in Developmental Disabilities, CDS supports the well-being, inclusion and empowerment of people with disabilities and their families.
The mission of the center is to enhance the lives of individuals and families through education, prevention, service and research related to disabilities. CDS promotes independence and productivity so individuals and families can fully participate in the life of their communities in Delaware and beyond. 
For further information, visit the CDS website or call 302-831-6974. The center also has a Facebook page.