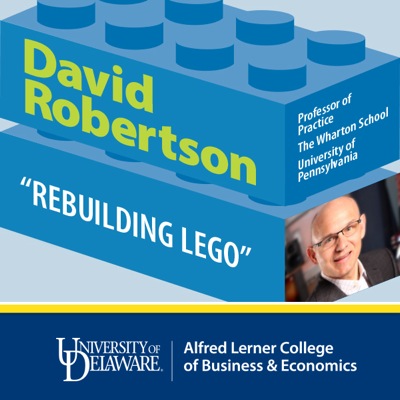 April 24: Tyler Lecture
Robertson to deliver talk on LEGO in executive leadership series
6:46 p.m., April 3, 2013--If bricks could talk, the University of Delaware's East Coast Classic campus would have many stories to tell. In fact, a Brick Educational Wall created under the guidance of UD's Facilities Planning and Construction was created not long ago to teach lessons on the history of masonry. But lessons on a different kind of brick will be delivered during the next Chaplin Tyler Executive Leadership Series. 
David Robertson, professor of practice at the Wharton School, will speak on the world famous toy building brick company in his lecture "Rebuilding LEGO" at 3 p.m., Wednesday, April 24.
June 5: Blue Hen 5K
University of Delaware graduates planning to attend Alumni Weekend are encouraged to register for the annual Blue Hen 5K walk and run, which will be held Sunday morning, June 5.
June 6-9: Food and culture series
The 20th annual June Lecture Series at the Osher Lifelong Learning Institute at UD in Wilmington will be held June 6-9. Titled 'June a la Carte,' this year's program focuses on great political documents, feminism, world politics and a Newark cuisine sampler.
The event, which is free and open to the public, will be held in 115 Purnell Hall on the UD campus in Newark.
Robertson, who teaches innovation and product development in Wharton's undergraduate, MBA and executive education programs, was the LEGO Professor of Innovation and Technology Management at Switzerland's Institute for Management Development (IMD) from 2002 through 2010.
He is also author of the forthcoming Brick by Brick: How LEGO Reinvented its Innovation System and Conquered the Toy Industry and co-author with Jeanne W. Ross and Peter Weill of Enterprise Architecture as Strategy: Creating a Foundation for Business Execution.
He has published in numerous journals and consulted and led educational programs for a variety of U.S. and European companies from Credit Suisse to Heineken.
Prior to IMD, Robertson was a postdoctoral research fellow at the MIT Computer Science and Artificial Intelligence Laboratory, a consultant at McKinsey and Company for five years and an executive at four enterprise software companies.
He holds an MBA and doctoral degree from MIT and a bachelor's degree from the University of Illinois.
Attendees are asked to register online through April 23. For additional information or special needs, contact Kim Ragan at ragank@udel.edu or 302-831-1760.
About the Tyler Lecture
The Chaplin Tyler Executive Leadership Lecture Series in UD's Alfred Lerner College of Business and Economics brings leaders from business, nonprofit organizations and the government to campus to share their experiences and insights with students, faculty and the business community in an open exchange of ideas and perspectives.
The series, which is supported by the Chaplin Tyler Endowment Fund, is dedicated to the memory of Chap and Elizabeth Tyler, their commitment to education and their determination to help young people achieve success in the business world.
Article by Kathryn Meier