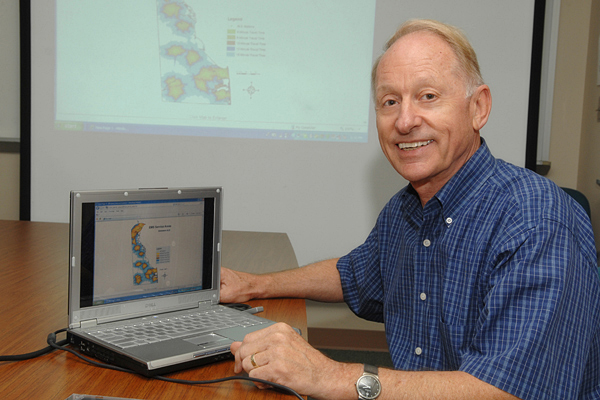 Honors geography
UD professor recognized for geography education efforts
9:14 a.m., Sept. 8, 2011--Peter Rees, associate professor of geography and Latin American Studies at the University of Delaware, recently received the Higher Education Distinguished Teaching Award from the National Council for Geographic Education.
The award was presented Aug. 6 at the organization's annual conference, held in Portland, Ore.
National Medal of Science
President Barack Obama recently presented the National Medal of Science to University of Delaware alumnus Rakesh Jain.
Warren Award
Rosalind Johnson, assistant dean for student success in the NUCLEUS Program in UD's College of Arts and Sciences, was presented the John Warren Excellence in Leadership and Service Award during a May 26 ceremony.
The National Council for Geographic Education is a non-profit organization working to enhance the status and quality of geography teaching and learning from kindergarten to the university level. 
The Higher Education Distinguished Teaching Award recognizes and supports excellence in geography teaching among two-year college, college and university educators and honors teachers who have displayed continued dedication to geography education.
Rees was recognized for his outstanding contributions to undergraduate and graduate teaching at UD and in the field through the acclaimed study abroad program. 
"The geographic perspective is a way of looking at the world, and is at the heart of my teaching," Rees said. "I was really honored and humbled to be one of four people nationally to receive this award."  
The award also recognizes Rees' contributions to K-12 geography education in Delaware.
The founder and first coordinator of the Delaware Geographic Alliance, Rees has contributed to professional development and curriculum and assessment reform in Delaware public schools over the past 25 years. Margaret Legates currently serves as project coordinator for the Delaware Geographic Alliance, which is housed in the Department of Geography in UD's College of Earth, Ocean, and Environment.
"We have made significant progress in geography education in Delaware schools, particularly at the elementary and middle school level," Rees said. "The fact that there is a major component of geography in the state K-12 curriculum is due to the work of the Delaware Geographic Alliance."
The state alliance is a member of the Geography Alliance Network, a national organization, which is supported by the National Geographic Society Education Foundation.
"At the high school level, advanced placement courses in human geography are among the fastest growing AP courses in the country," Rees said. "In Delaware there is now an increasing demand from high school teachers for workshops dealing with new state social studies curriculum requirements, including geography. We are making progress." 
At UD, Rees has been involved in about 25 study abroad trips with locations ranging from Latin America and the Caribbean to the United Kingdom, where his students studied the development of London as a city.
Rees noted that there has been a steady increase in the number of students who choose to major in geography after they arrive on campus.   
"One of the areas of interest is in environmental studies and environmental sciences, which is directed by our own Department of Geography," Rees said. "These disciplines are attracting more students because of their interest in the environment."  
Article by Jerry Rhodes
Photo by Kathy F. Atkinson