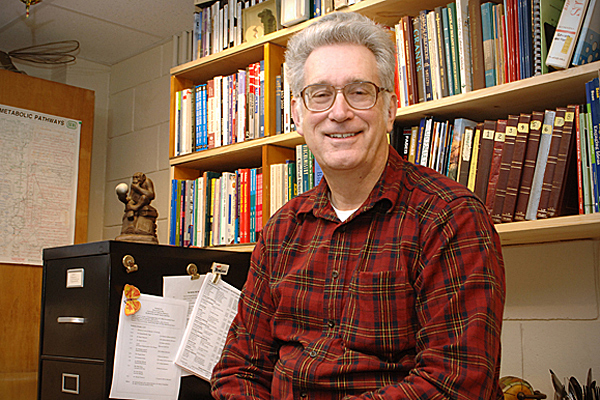 Engaging students
UD professor wins award for problem-based learning techniques
2:24 p.m., Oct. 21, 2011--Hal White, professor of chemistry and biochemistry at the University of Delaware, has received the 2011 Howard Barrows Award for his work in promoting student engagement through problem-based learning.
White visited McMaster University in Ontario for several days this month to accept the award and to meet with faculty and students. The award is given in honor of the late Dr. Barrows, a former McMaster faculty member who was widely recognized as an architect of self-directed, problem-based learning and who pioneered the concept of using simulated patients to train medical students.
National Medal of Science
President Barack Obama recently presented the National Medal of Science to University of Delaware alumnus Rakesh Jain.
Warren Award
Rosalind Johnson, assistant dean for student success in the NUCLEUS Program in UD's College of Arts and Sciences, was presented the John Warren Excellence in Leadership and Service Award during a May 26 ceremony.
"This special award reflects the guiding principles of the [McMaster Health Sciences] program—to promote student engagement in their own learning by providing a stimulating teaching environment," according to the university's announcement. "The Barrows Award honors exceptional teachers who have taught students, primarily at the undergraduate level."
White, who directs the Howard Hughes Medical Institute undergraduate science education program at UD, said Dr. Barrows developed a more real-world way of teaching medical students than the traditional lecture classes, by presenting them with a problem in the form of a "patient" whose condition they would then diagnose and treat. This problem-based learning technique has since grown to encompass undergraduate students as well. It was introduced at UD many years ago through the Medical Scholars Program, White said.
"With undergraduates, we come up with problems they have to solve, and in finding the solutions, they research and learn the necessary material," he said. "A lot of the process has to do with students—not professors—asking the questions."
In his visit to McMaster, White was scheduled to meet with students for informal discussions about teaching and learning and to share with faculty members some of his and UD's experiences in using problem-based learning and related techniques. He also has written a chapter in a book about teaching methods that is being published in Dr. Barrows' honor.
Article by Ann Manser
Photo by Kathy F. Atkinson