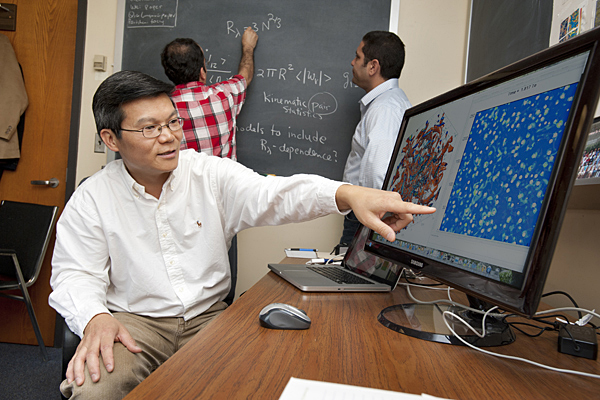 APS Fellow
Mechanical engineering prof honored for pioneering fluid mechanics research
10:42 a.m., Oct. 7, 2011--Lian-Ping Wang, professor of mechanical engineering at the University of Delaware, has been elected a fellow of the American Physical Society (APS).
Designation as an APS Fellow places Wang among the top one-half of one percent of APS members, an elite appointment that recognizes his pioneering research on the theory and computation of turbulent particle-laden flows and their application to engineering and environmental processes. He will be recognized during the APS Division of Fluid Dynamics annual meeting in Baltimore this November.
National Medal of Science
President Barack Obama recently presented the National Medal of Science to University of Delaware alumnus Rakesh Jain.
Warren Award
Rosalind Johnson, assistant dean for student success in the NUCLEUS Program in UD's College of Arts and Sciences, was presented the John Warren Excellence in Leadership and Service Award during a May 26 ceremony.
"Lian-Ping's work in computational fluid mechanics has contributed significantly to the understanding of environmentally important topics such as droplet growth in clouds and the transport of nano-particles in soil," noted Anette M. Karlsson, professor and chair of the Department of Mechanical Engineering.
Wang's work involves the creation of advanced simulation tools to study and predict physical processes at small scales, and the development of statistical descriptions of these processes that enable scientists to better formulate large-scale models. His research focuses on diverse environmental processes that show potential in perfecting existing prediction methods and reducing uncertainties in weather and climate models.
A critical step towards solving the global warming debate is understanding the microphysical development of clouds, said Wang. His group uses rigorous computer simulations to quantify how air turbulence can enhance the collision rate of droplets in atmospheric clouds. Their pioneering research in this area contributes to the improved accuracy of large-scale models used to predict weather phenomena and climate changes.
Wang's research group also studies nano-particle transport in ground soil. They are developing a revolutionary bottom-up simulation tool to help scientists predict the passage and retention of nano-particles in soil. This work is literally "groundbreaking," as little is known about the progression of these particles and their effect on the environment.
About Lian-Ping Wang
Lian-Ping Wang joined UD in 1994. In addition to his duties in mechanical engineering, he is affiliated with the College of Earth, Ocean, and Environment and UD's Center for Critical Zone Research and Center for Study of Space Radiation Effects, as well as the National Center for Atmospheric Research and the Chinese Academy of Sciences.
Wang's research was listed among the top 50 most cited articles in the Atmospheric Research journal in 2010 and 2011. His career honors include the Distinguished Overseas Scholar Award from China, UD's Francis Alison Young Scholars Award and UD's junior-faculty Outstanding Teaching Award.
Wang received his bachelor's degree in engineering mechanics from Zhejiang University, China. He earned his doctoral degree in mechanical engineering from Washington State University.
Article by Gabriella Chiera
Photo by Evan Krape