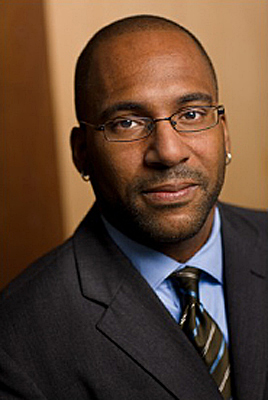 Black feminism
Professor writes book on black Leftist feminism, receives award
2:18 p.m., Oct. 19, 2011--The black women of the Communist Party—a group of hundreds, perhaps thousands, of radical activists who helped lay the foundation for the Civil Rights and Black Power movements of the '60s and the black feminist movement of the '70s—have been largely ignored by history books and the lasting legacy of the Cold War, says Erik McDuffie, an associate professor of Black American studies and history at the University of Delaware.
His book, Sojourning For Freedom: Black Women, American Communism, and the Making of Black Left Feminism, gives them voice.
National Medal of Science
President Barack Obama recently presented the National Medal of Science to University of Delaware alumnus Rakesh Jain.
Warren Award
Rosalind Johnson, assistant dean for student success in the NUCLEUS Program in UD's College of Arts and Sciences, was presented the John Warren Excellence in Leadership and Service Award during a May 26 ceremony.
Drawing from more than 40 oral histories collected from veteran black radicals now in their 80s and 90s, and interviews with their family members, McDuffie examines how 11 women from diverse locales and backgrounds became radicalized, joined the Communist Party and advocated path breaking policies committed to black liberation, women's rights, decolonization, economic justice, peace and international solidarity.
"They argued that black women were the barometer by which to gauge global democracy, that improving the status of black women would improve the status for all," he explains. 
Sojourning For Freedom has been praised by scholars, and McDuffie has received the Letitia Woods Brown Book Award from the Association of Black Women Historians for providing "an important corrective to the narrative of the long Civil Rights movement that too often has neglected the role of black women in the left and their contributions to the struggle for racial justice."
Article by Artika Rangan