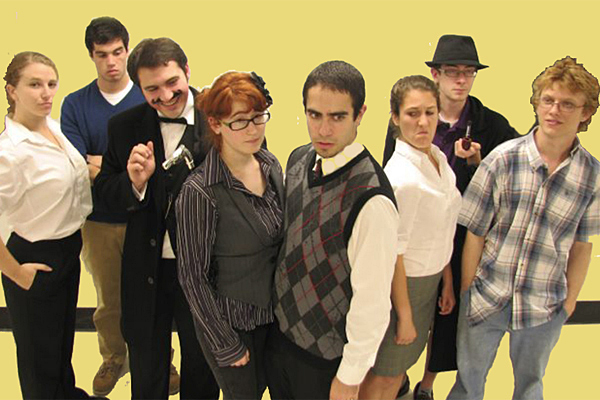 Oct. 21-23, 27-29: E-52 to stage 'Mousetrap'
E-52 Student Theatre to stage Agatha Christie's 'The Mousetrap'
11:41 a.m., Oct. 11, 2011--E-52 Student Theatre at the University of Delaware will present Agatha Christie's The Mousetrap, an original production of the timeless classic stage play produced and performed by UD students, Fridays through Sundays, Oct. 21-23 and 27-29, in the Pearson Hall Auditorium.
Showtimes are 7:30 p.m. every day except Sunday, Oct. 23, which will be a 2 p.m. matinee. Tickets cost $5 for students, faculty and staff and $7 for non-students, and will be available at the door.
June 5: Blue Hen 5K
University of Delaware graduates planning to attend Alumni Weekend are encouraged to register for the annual Blue Hen 5K walk and run, which will be held Sunday morning, June 5.
June 6-9: Food and culture series
The 20th annual June Lecture Series at the Osher Lifelong Learning Institute at UD in Wilmington will be held June 6-9. Titled 'June a la Carte,' this year's program focuses on great political documents, feminism, world politics and a Newark cuisine sampler.
The Mousetrap is one of the classic whodunits in theatre history -- eight strangers alone in a guesthouse during a blizzard, and one bloodthirsty killer on the loose.
Since it's London opening in 1952, Christie's play has more than provided its timelessness. It currently holds the undisputed record for the longest-running show in history, running for 59 years and having over 23,000 performances. 
E-52 director Angel Vanbennekom, a sophomore and the organization's vice president, pays her homage to this history by presenting the play much as its author intended, maintaining the charm and elegance of the original setting in the mid-1960s in the English countryside.
E-52 Student Theatre has had an excellent opportunity in presenting this world-renowned murder mystery so close to Halloween weekend. Carefully crafted lighting (designed by Mike LePere) and sound effects (designed by Kirsten Haden) are utilized to intensify the most dramatic scenes in the play, and extensive character work has been undertaken to explore the themes of violence, jealousy, suspicion and distrust that are presented in this brilliantly-contained melodrama. 
Those familiar with E-52 may recognize some of the seasoned cast members, including Erinn Triplett (Mollie Ralston), Ryan Egnor-Keil (Giles Ralston), Arthur Reeves (Christopher Wren), Fallon Rice (Miss Casewell), and Christopher Waters (Mr. Paravicini).
Newer faces in the cast include Brittany Drazich (Mrs. Boyle), Jonathan Miller (Major Metcalf), and Michael Krakower (Sergeant Trotter).