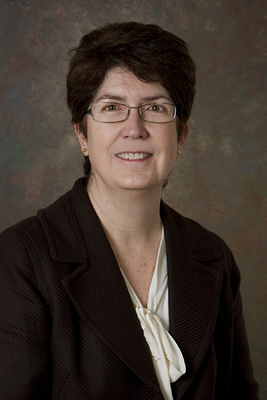 Distinguished scholar
Fashion professor earns award from international association
8:40 a.m., Nov. 18, 2011--Marsha Dickson, professor in the University of Delaware Department of Fashion and Apparel Studies, has been named the 2011 Distinguished Scholar by the International Textile and Apparel Association (ITAA).
The award, given to a current ITAA member for their "continuous and valuable contributions to scholarship in the field," includes a keynote address at the association's annual conference and a cash prize of $1,500. 
National Medal of Science
President Barack Obama recently presented the National Medal of Science to University of Delaware alumnus Rakesh Jain.
Warren Award
Rosalind Johnson, assistant dean for student success in the NUCLEUS Program in UD's College of Arts and Sciences, was presented the John Warren Excellence in Leadership and Service Award during a May 26 ceremony.
Dickson is internationally regarded for her research on social responsibility and sustainability in the apparel industry. Her scholarship examines the efforts of apparel brands and retailers to ensure the products bearing their names are manufactured under good working conditions and labor standards that protect workers' rights and the environment.
She delivered her Distinguished Scholar keynote in Philadelphia on Nov. 3.
This is the second ITAA honor for the Department of Fashion and Apparel Studies. 
At the annual conference, professor Jo Kallal received the 2011 Lectra Outstanding Faculty Designer Award from the Association. Honored for her design, "Roiling Waters," she will receive a trip to Paris to visit the Lectra headquarters and attend Premiere Vision, the world's leading fabric trade show. The award is sponsored by Lectra Systems, a computer-aided design software company for the apparel industry. 
About ITAA
The International Textile and Apparel Association promotes the discovery, dissemination and application of knowledge and is a primary resource for its members in strengthening leadership and service to society.
The ITAA is a professional, educational association composed of scholars, educators, and students in the textile, apparel, and merchandising disciplines in higher education. ITAA welcomes professionals employed in those fields who wish to join with members of the Association in the pursuit of knowledge, interchange of ideas, and dissemination of knowledge through meetings, special events and publications.