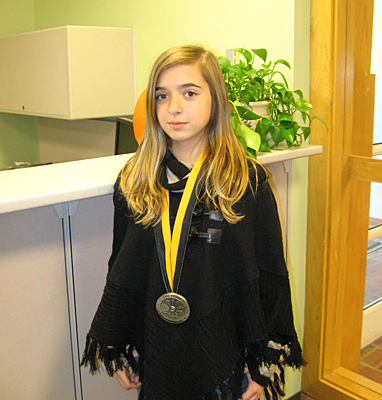 Wii donation wins award
13-year-old College School alumna honored for helping elderly
9:01 a.m., Nov. 28, 2011--Be kind. That is the mantra for students at The College School (TCS), a specialized laboratory school within the University of Delaware's College of Education and Human Development that supports children in grades 1-8 with learning differences.  Students are expected to follow the "kindness" rule throughout their time at TCS and they learn to incorporate this virtue into all aspects of their lives.
Genevieve Spence, 13, who lives in Newark, Del., was one such student. She attended TCS from third through fifth grade. When Spence was 10, she visited Alzheimer's patients in an assisted living facility with her Girl Scout troop. She enjoyed spending time with the residents and continued to visit even after the project ended. 
National Medal of Science
President Barack Obama recently presented the National Medal of Science to University of Delaware alumnus Rakesh Jain.
Warren Award
Rosalind Johnson, assistant dean for student success in the NUCLEUS Program in UD's College of Arts and Sciences, was presented the John Warren Excellence in Leadership and Service Award during a May 26 ceremony.
On her own accord, Spence researched ways to keep the patients happy and healthy. She learned that video games could benefit people who suffer from Alzheimer's, helping both their physical and mental state.
She decided to raise money to buy a Wii video game system for the nursing home. She made and sold friendship bracelets, collected items for a garage sale, and even sought donations from retailers. It took a year, but Spence raised $420 to purchase the Wii system and games.
The results were fantastic. She gave the residents a demonstration and the first time one played, all the residents cheered.  One man who had been nonverbal for quite some time began speaking again after interacting with the Wii. Others shared stories they had not told anyone in years. All while getting great exercise from the game system.
Spence's act of kindness was recognized at an awards gala in Washington, D.C., along with those of 100 students from around the U.S. She was awarded a 2011 Prudential Spirit of Community award, created to honor young people in middle and high school for outstanding volunteer service to their communities.
Spence attributes much of her success to TCS. While her school district failed to give her the one on one help that she needed, TCS helped her flourish. She was given a full educational evaluation at the University of Delaware to help determine why she struggled in the areas of written language and reading. The College School staff made specific accommodations and provided Spence with the necessary support to help her succeed as a learner.
By engaging in lessons that use all their senses, Spence was able to finally make the connections necessary for learning.  She shared classes with other tactile learners, incorporating visual stimulation. "They get you involved in a fun way," she explained.
When it was time to transition from TCS to another school the staff was very helpful, suggesting Cab Calloway School of the Arts in Wilmington, Del., to support her creative nature. Her art teacher, Yolanda Chetwynd, not only inspired her, she introduced her to Dragonfly Leathrum, a local artist, who became Spence's mentor, guiding her through the application process. Today, Spence is a successful seventh grader at Cab Calloway.
But being a student isn't enough.  At a young age, Spence said she always thought it was important to change how people view charity and giving. She found TCS to be extremely supportive of her various charitable projects.  Her latest mission is to reduce homelessness in Delaware by using shipping containers to build residential structures.
"We are so proud of Genevieve.  She is a wonderful example of how The College School makes a difference for children," says Laura Dougherty, TCS interim director.  "By providing a highly structured program, our teachers help guide each student to reach their true potential as a learner.  We celebrate when a child is ready to return to the mainstream classroom. Although bittersweet, it is always heartwarming to see that the life lessons from TCS have taken hold."
The College School accepts students from grades 1 through 8.  Classes for the 2012-2013 school year are forming now, however, they also accept candidates for admission on a rolling basis, provided space is available. For more information, visit the website.
Article by Brittany Brown